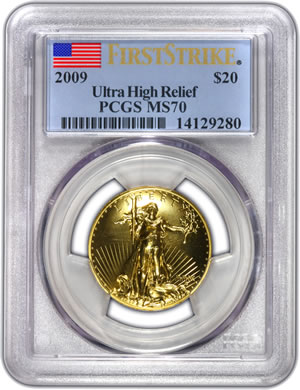 The first new 2009 Ultra High Relief Double Eagle Gold Coin was certified by Professional Coin Grading Service (PCGS) on Friday, February 13. It was graded Mint State 70.
"We were thrilled to examine the first submitted example of this eagerly anticipated modern masterpiece.

It's one of the finest designs ever created for United States coinage and a testament to the excellence of the United States Mint," said Don Willis, President of PCGS, a division of Collectors Universe, Inc. (NASDAQ: CLCT).
The coin was submitted by collector Charles Camp of Savannah, Georgia who said he was thrilled with the certification: "I've always been a big admirer of PCGS, and I think it's a great thing."
In addition to the MS70 grade, the coin was given a First-Strike® (http://www.pcgs.com/firststrike) designation by PCGS and encapsulated in the company's proprietary TriVue™ holder.
This coin series is now being added to the PCGS Population Report reference guide, and a video of PCGS and other leading numismatic experts commenting on the coin can be found online at www.PCGS.com (link to http://www.pcgs.com/articles/article_view.chtml?artid=5569&universeid=313&type=1)
"The TriVue™ holder not only provides long-term storage protection, it allows the coin's obverse, reverse and edges to be easily seen. With the PCGS certification of authenticity and grade, the value could dramatically increase over an ungraded, 'raw' coin," said Willis.
The design of the 24-karat, one-ounce Ultra High Relief Double Eagle Gold Coin is based on the famous and popular Double Eagle ($20 denomination) created by renowned sculptor Augustus Saint-Gaudens.
"The original 1907 Double Eagle is considered by many to be the most beautiful coin ever produced by the United States. Despite Saint-Gaudens' artistic masterpiece, the minting process at the time did not allow for mass production of ultra high relief coins, and his artistic vision was never fully realized," according to the Mint.
The 2009 version has a similar obverse to the 1907-dated coins with Liberty personified by a woman striding forward and a young eagle flying during sunrise on the reverse. But there are distinct differences: four stars were added to the design to represent the states added to the union since 1907 and the inscription IN GOD WE TRUST has been added along with a small border in the design. And of course, the date in Roman numerals, MMIX, is 2009.
For additional information about PCGS products and services, contact PCGS Customer Service at (800) 447-8848 or visit online at www.PCGS.com.
# # #