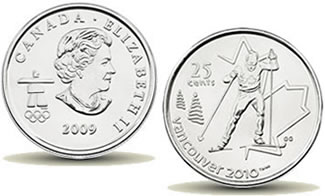 WHISTLER, BRITISH COLUMBIA – With one year to go before Vancouver welcomes the world for the 2010 Olympic and Paralympic Winter Games, Royal Canadian Mint has launched the latest coin in its Vancouver 2010 collection.
The sport of cross-country skiing is depicted on the 25-cent coin, which was launched today at the FIS World Cup Cross-Country Skiing competition at Whistler Olympic Park, the venue which will host all Olympic and Paralympic cross-country skiing events in 2010.
"As the Mint begins the third year of its extensive Vancouver 2010 circulation and commemorative coin program, we are pleased to kick-off 2009 with a coin that features a sport enjoyed by Canadians of all ages from coast to coast," said Ian E. Bennett, President and CEO of the Royal Canadian Mint.

"While our athletes continue their training towards Vancouver, we encourage Canadians to save this special coin, along with the other coins in the Vancouver 2010 collection, as a unique way to build momentum and wish them the very best of luck."
"We truly appreciate the opportunity to reach out and showcase our sport to Canadians in every corner of this country through this special initiative by the Royal Canadian Mint," said Al Maddox, executive director, Cross Country Canada. "It is through these unique projects that we are able to instill the Olympic dream in all Canadians, while engaging them in our exciting journey to the podium in 2010."
Up to 22 million 25-cent cross-country skiing coins entered into circulation yesterday and are available exclusively at RBC branches and participating Petro-Canada locations. RBC is a Premier National Partner and Petro-Canada is a National Partner of the Vancouver 2010 Olympic and Paralympic Winter Games. Canadians can also look for these special coins in their change. Participating Petro-Canada locations are also currently selling cross-country skiing sport cards, containing a uniquely painted version of the coin, for $7.95.
Cross-country skiers competed at the first Olympic Winter Games in Chamonix, France, in 1924, in 18-kilometre and 50-kilometre races for men. Ladies' cross-country skiing made its debut at the Oslo 1952 Olympic Winter Games. The cross-country skiing technique known as skating or free technique became a separate Olympic competitive discipline at the Calgary 1988 Winter Games. In 2010, there will be twelve Olympic cross-country events (six each of men's and ladies' disciplines) and ten Paralympic cross-country events (five each of men's and ladies' disciplines).
Designed by Canadian artist Glenn Green of Vancouver, BC, the cross-country skiing circulation coin features a cross-country skier in the centre, a stylized maple leaf and the words 'Vancouver 2010'. The obverse features the portrait of Her Majesty Queen Elizabeth II, rendered by Susanna Blunt.
In addition to the circulation coin, the Mint is offering the following related keepsakes, located at www.mint.ca/2010: the first day 25-cent cross-country skiing coin ($15.95); and the 25-cent cross-country circulation coin roll ($16.95). These and other Royal Canadian Mint products are also available for purchase by calling 1-800-267-7000. The sterling silver version of the cross-country skiing coin, featuring a stunning hologram ($71.95), will be available on April 15, 2009.
Canadians can look forward to the following 2010 Olympic and Paralympic Winter Games themed circulation coins: three 25-cent coins will feature the sports of speed skating (March 12, 2009), bobsleigh (June 23, 2009) and Paralympics sledge hockey (March 16, 2010), while the 2010 Lucky Loonie will be launched on February 9, 2010, just prior to the Vancouver 2010 Winter Olympic Games. Details on three special circulation coins celebrating the top three Canadian Olympic moments will be announced in the very near future.
Win a trip to the Vancouver 2010 Olympic Winter Games!
With 2010 just around the corner, Canadians are encouraged to enter for a chance to win the grand prize of a trip for four to the Vancouver 2010 Olympic Winter Games or one of 500 other exciting Royal Canadian Mint prizes. Contest details are available in the February issue of Chatelaine magazine or visit www.mint.ca/2010 and enter the lucky word "coins" to register to win.
About the Royal Canadian Mint
The Royal Canadian Mint is the Crown Corporation responsible for the minting and distribution of Canada's circulation coins. An ISO 9001-2000 certified company, the Mint is recognized as one of the largest and most versatile mints in the world, offering a wide range of specialized, high quality coinage products and related services on an international scale.
The Mint is an Official Supporter of the Vancouver 2010 Olympic and Paralympic Winter Games and has undertaken to produce the most extensive circulation coin program in relation to the Olympic Games ever conceived by any mint worldwide, while also offering limited mintage collector coins and sets. Visit www.mint.ca/2010 for Vancouver 2010 keepsakes and gifts.