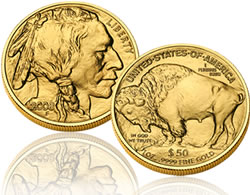 All 2008-W American Buffalo Gold Uncirculated coins for collectors have sold out, according to the United States Mint online store.
The one-ounce and one half-ounce gold coins joined the ranks of other fractional sizes, moving to the "product is not available" category over the weekend. Their sales had increased over the previous week by 8.7 percent and 6.6 percent, respectively.
The Mint's gold and platinum coin series has been ablaze in sellouts of late. The American Buffalo gold uncirculated 4-coin set sold out last Monday while the proof quarter-ounce version and the final platinum Eagle uncirculated coins went Wednesday.
Collectors have watched the series closely since the Mint reduced its coin prices on November 13 and also announced the elimination of several hundred coins from its 2009 numismatic portfolio, including all options of the American Buffalo Uncirculated Gold Coins.
The 2008 Buffalo one-half ounce proof version is still up for sale, but perhaps not for long. It has a delayed shipping notice that could imply its inventory is near zero. The other proof sizes have already disappeared.
The latest Mint sales figures for the Buffalo gold uncirculated series follow:
2008-W American Buffalo Gold Uncirculated

Mint Price

Sales

Notes

1 ounce

$999.95

2,867

Sold Out

1/2 ounce

$524.95

2,857

Sold Out

1/4 ounce

$297.45

4,105

Sold Out

1/10 ounce

$129.95

12,624

Sold Out

4 coin set

$1,902.45

6,581

Sold Out

US Mint coin information page: American Buffalo 24K Gold Coins
The CoinNews collector tool U.S. Mint Collector Bullion Coin Prices, Premiums and Sales Figures has been updated. The page can help locate the better priced and more scarce coins, as well as help identify collector bullion coins still available.