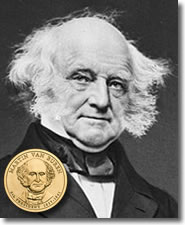 The ceremonial launch of Martin Van Buren Presidential Dollars will take place on Friday, the U.S. Mint said in an advisory to the media and public. The coins were released into circulation in mid November, but the Mint delayed the traditional public ceremony it conducts for new coins to coincide with Van Buren's birthday on December 5.
The launch is part of the annual wreath laying ceremony celebrating Martin Van Buren's birthday at the Kinderhook Cemetery in Kinderhook, New York beginning at 9:30 a.m. (ET).
United States Mint Deputy Director Andy Brunhart will say a few words and join other officials in handing out a free Presidential $1 coin to children under 18 years old. The public may exchange their money for $10 rolls.
Current Presidential products are available through the following U.S. Mint page:
Already launched this year were coins celebrating James Monroe, John Quincy Adams and Andrew Jackson. The first four Presidential Dollars issued in 2007 had the images of George Washington, John Adams, Thomas Jefferson and James Madison. The $1 coins are issued in the order presidents served.