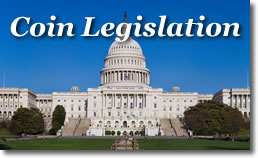 The Senate dismissed its lame duck session status on Monday and passed a bill to "mint and issue $5 gold coins, $1 silver coins, and half dollar clad coins as numismatic items emblematic of the traditions, history, and heritage of the U.S. Army, and its role in American society from the Colonial period to today."
The Senate voted by Unanimous Consent to pass the U.S. Army Commemorative Coin Act, H.R. 5714. A nearly identical Senate bill, S. 2579, previously passed on October 2, 2008. Instead of that legislation moving forward, H.R. 5714 was selected. The House had given their unanimous thumbs up for H.R. 5714 on October 3, 2008.
The coin legislation will next go before the President for his expected signature. After signing, it will become law and in 2011 the following commemorative gold, silver and clad coins will be issued:
$5 gold coin with a limited mintage of 100,000
$1 silver dollar with limit of 500,000
50c clad limited to 750,000
Sales of each coin will include surcharges with proceeds paid to the Army Historical Foundation to help fund the National Museum of the United States Army at Fort Belvoir, Virginia.