New York gold futures declined 1.3 percent on Tuesday. The yellow metal became less attractive to investors as a hedge against inflation given lower than expected U.S. producer prices and a sharp decline in Britain's inflation. Silver and platinum futures gained 2.4 percent and 2.0 percent respectively.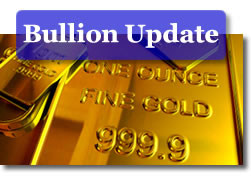 A threat of inflation became less pronounced as U.S. producer prices plummeted a record 2.8 percent in October, the Labor Department reported Tuesday. Analysts were expecting 1.9 percent. In further deflationary news, the inflation rate in Britain settled down to 4.5 percent in October, marking its sharpest decline since 1997.
Falling energy prices have been key in easing inflation's bite. December crude-oil continued its decline. It lost 56 cents, or 1 percent, to close to $54.39 a barrel and set a fresh 22-month low. According to AAA, the average price for unleaded gasoline fell nearly 2 cents from Monday to $2.068 a gallon.
December silver gained 22 cents to end at 9.55 an ounce.
January platinum climbed $16.40 to settle at $837 an ounce.
Gold for December dropped $9.30 to close to $732.70 an ounce.
"Another day of disinflationary news and of more assorted gloom on various fronts. Markets were still digesting the sharpest PPI drop in 61 years recorded last month," said senior analyst Jon Nadler at Kitco Bullion Dealers.
"Inflation has very suddenly become yesterday's story and we mean across the planet," said David Rosenberg, North American economist at Merrill Lynch.
Gold, considered a hedge during times of high inflation and economic uncertainty, tends to follow oil and move opposite to the U.S. dollar. A rising greenback makes dollar-denominated commodities, like bullion, more expensive for holders of other world currencies. When prices are falling and economic activities are shrinking, gold prices tend to move lower.
Check out CoinNews market resources at Live Silver, Gold & Platinum Spots, the Silver Coin Calculator, U.S. Mint Collector Bullion Coin Prices, and the Inflation Calculator.