(New Orleans, Louisiana) – The 1844-O proof Eagle, a one-of-a-kind gold coin struck at the New Orleans Mint 164 years ago, has returned "home" to the Louisiana State Museum – Old U.S. Mint with the help of New Orleans coin dealer, Paul Hollis.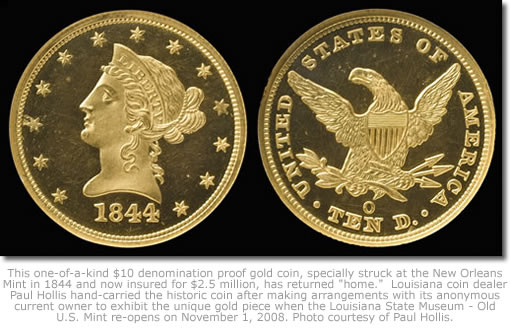 The unique, $10 denomination gold piece apparently was specially struck as a presentation piece, and over the decades it's been in the famous coin collections of a former U.S. Treasury Secretary and an early 20th century Chicago beer baron.
It is certified by Numismatic Guaranty Corporation as Proof-65 Ultra Cameo, and now insured for $2.5 million for an upcoming exhibition.
"This coin is certainly among the most important Southern gold coins ever struck, combining rarity, beauty, technical quality and a fascinating story," said Mark Salzberg, NGC Chairman.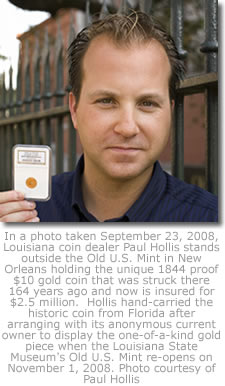 The coin will be publicly displayed at the Louisiana State Museum's Old U.S. Mint, 400 Esplanade Ave., New Orleans, beginning when the museum re-opens November 1, according to Greg Lambousy, Louisiana State Museum Director of Collections.
This first-ever public exhibit in Louisiana was arranged by Hollis and the anonymous Florida collector who has quietly owned the historic gold piece since acquiring it in 2006. Hollis personally carried the valuable coin from Florida to Louisiana, clutching it in his hands during the entire journey.
In a pre-arranged, secret rendezvous, he was met at Louis Armstrong International airport in New Orleans on September 23 by a state police escort for the trip to the museum where he presented the unique gold piece to officials there.
"I had goose bumps when the plane landed in New Orleans and I realized the coin I was holding in my hands was home in Louisiana for the first time in over a century and a half. I got goose bumps again when we arrived at the Old U.S. Mint. I've been trying to get this coin back to New Orleans for the past six years when it was owned by someone else," said Hollis.
Slightly larger than a modern quarter-dollar and containing a half-ounce of gold, the 1844-O proof Eagle is the most valuable rare coin struck in Louisiana.
"The Old U.S. Mint was constructed under authorization by President Andrew Jackson. It struck its first coins in 1838 and ended coin production in 1909. During the Civil War, the Confederacy briefly struck coins there," said Lambousy.

"A total of 118,700 New Orleans Mint $10 gold pieces were made for circulation in 1844, but only one presentation proof Eagle was specially struck."
The obverse depicts a Liberty Head design by Christian Gobrecht and the date, 1844. The reverse shows an eagle with shield clutching an olive branch in one talon and arrows in the other; the words UNITED STATES OF AMERICA TEN D.; and a large letter, O, as the New Orleans mintmark.
The first known sale of this coin dates back to the Parmalee Sale conducted by New York Stamp & Coin Co. in June 1890. Over the past century, owners of the coin have included former U.S. Treasury Secretary William H. Woodin, and roaring twenties era Chicago brewer, Virgil Brand. Other prominent former owners include Abe Kosoff, John J. Ford, John Murrell and Robert Lecce.
Beginning November 1, 2008, the mint museum will be open Tuesdays through Sundays from 9 a.m. to 5 p.m. and closed on Mondays.
"Collectors should definitely take advantage of the special opportunity to view this coin in person. After all, this coin was not publicly seen from the 1950's to the 1990's. By looking at coins of this type, we better understand the role and capabilities of the Southern Mints in the 1840's," said Salzberg.
On the web:
Louisiana State Museum Old U.S. Mint
lsm.crt.state.la.us/mintex.htm
Paul Hollis