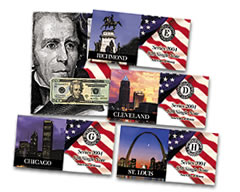 New $20 single collector notes are now available through the Bureau of Engraving and Printing (BEP). The offering is the third and final installment of the Series 2004 $20 Single Notes with each priced at $45.
Available banknotes include those issued from the following Federal Reserve Districts:
Series 2004 $20 Single Cleveland Note
Series 2004 $20 Single Richmond Note
Series 2004 $20 Single Chicago Note
Series 2004 $20 Single St. Louis Note
The issuance of the Series 2004 $20 note on October 9, 2003 was the first introduction to the subtle background colors for U.S. currency since the 1905 $20 Gold Certificate.
Each collectible note is:
Limited in quantity to 2,500 notes worldwide
The LOWEST SERIAL NUMBERS available. (One of the first 4,000 redesigned new color of money notes issued from the respective Federal Reserve Bank.)
Protected by a clear, acid-free polymer sleeve in an attractive folder
Customers interesting in purchasing the notes are directed to download a PDF order form, fill in the necessary information, and then e-mail (moneyfactory.sales@bep.treas.gov) or fax (1-888-891-7585) the order to the BEP.
A product information page for each note may be found on the BEP store home.
Orders may also be placed via the BEP toll free number 1-800-456-3408.