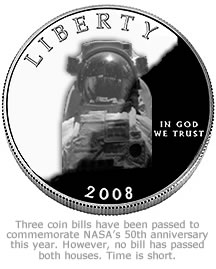 The House of Representatives passed commemorative coin legislation Tuesday that would issue silver and gold coins honoring NASA's 50th anniversary this year. The legislation, H.R. 6455, was introduced and passed swiftly in five days.
Praiseworthy speed? Perhaps not… Consider first that H.R. 6455 is nearly identical to H.R. 2750, which the House had already passed in 2007. And for all practical purposes, it's identical to the Senate's June passage of S. 2159.
Before getting into why there are three bills, its more important to know what the passage of any one of them means to coin collectors. Each bill would authorize the United States Mint to issue:
300,000 one-ounce silver dollars for each of 9 designs depicting the 8 planets, plus 1 coin for dwarf planets (Pluto)

50,000 one-ounce $50 gold coins depicting the sun and emblematic of US astronaut sacrifices
The $50 gold coin would only be issued as part of a complete set with the 9 silver commemoratives. All coins would be 2008 dated to honor the 50th anniversary of NASA's first day of operations on October 1, 1958.
Now for a brief look into how the three bills came about…
Lateness and inaction cause problems
NASA's 50th anniversary is this year, and legislation has yet to be signed into law. Even if a coin bill became law today, the United States Mint would be hard pressed to complete 10 coin designs, have them approved and then issue coins by year's end.
In that respect, coin collectors can thank the Senate. Had they taken up last year's House bill (H.R. 2750) sooner — after all, the House did pass it on July 30, 2007 — the Mint would be well on its way already.
But the Senate didn't. However, Sen. Bill Nelson [D-FL] eventually acted. He crafted a new version of the House bill with modified coin issuance dates. That bill, S. 2159, passed the full Senate on June 19, 2008.
Differences between newer Senate bill and 2007 House bill
To compensate for lateness, three major provisions were added in S. 2159 that H.R. 2750 didn't have:
An option to mint and issue coins through to the end of 2009
A surcharges for the sale of each coin that was issued in 2009
A clause to preclude the NASA coins from counting toward the 2 commemorative coin per year limit
S. 2159 also added a surcharge of $1 for each bronze medal duplicate sold.
An important point, the Senate bill still requires orders for NASA commemorative coins to end on December 31, 2008.
With the Senate passage of the bill in June, one would expect the next action for NASA coins to involve either H.R. 2750 or S. 2159, and in short order. Not so.
Present day action
Flash forward almost a month from the Senate's passage. There was still no action on H.R. 2750 or S. 2159.
Then on July 10, Rep. Sheila Jackson-Lee [D-TX] — who introduced the 2007 House bill — introduces H.R. 6455. Unusual?
Outside of about three sentences, each of these bills are clones of each other. Does something seem amiss in the back and forth process?
If there's too much further delay, new legislation may need to be proposed celebrating NASA's 51st anniversary.