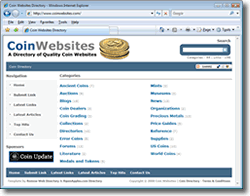 Coin Websites, a new coin directory complete with 44 topic categories and 196 sites, was recently launched by Michael Zielinski. Collectors may already be familiar with the work of Zielinski, who provides a daily round up of coin collecting news from around the web via Coin Update.
Zielinski's new coin directory looks to be promising. Unlike so many other Internet directories, Coin Websites is not clouded with a ton of other information.
It's dedicated solely to quality coin sites and you don't have to dig around to find them. The clean, simple website design makes it easy.
The directory spawned from what many collectors and dealers can relate to — trying to keep track of the many great coin related information resources on the Internet. On the subject, Zielinski commented,
"I decided to create CoinWebsites.com partially out of my own necessity to better organize the long list of coin websites that I visit regularly. My bookmark list and RSS feed list were literally starting to run off my screen, and everything was lumped into a single category called "Coins."

I also felt that there was a need for a newly created coin directory. Specific coin information can sometimes be difficult to track down even with search engines, and a well organized list of trusted sites can come in handy."
Also, again unlike so many directories on the Internet, Coin Websites is structured for use on "today's" Internet and is completely free — to use or to submit sites.
"Many of the coin directories currently available were created many years ago when people sought and consumed information on the internet differently. These older directories can also be riddled with inactive links or sites that have not been updated in years," said Zielinski.

"Anyone can submit new links to the directory for a free listing in the directory, but all submissions are reviewed to make sure that only up to date sites with valuable information for coin collectors are listed," he continued.
As a sampling of Coin Websites categories, the main home page currently includes:
| | | |
| --- | --- | --- |
| Ancient Coins | Error Coins | Organizations |
| Auctions | Forums | Precious Metals |
| Blogs | Literature | Price Guides |
| Coin Dealers | Medals and Tokens | Reference |
| Coin Grading | Mints | Supplies |
| Collections | Museums | US Coins |
| Directories | News | World Coins |
If your web bookmarks are piling up or you would like to have your own coin site listed for free, you may want to head over to Coin Websites and give it a try.