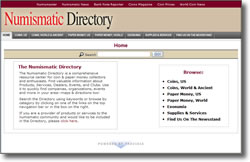 Numismatic News today announced the launch of an online Business Directory for coin collectors and numismatic professionals.
In a statement, associate publisher of Numismatic News Dean Listle said,
"No matter where you're located or what services you're looking for, the Industry Directory will help you find it. We've collaborated with our partners across the country to compile a database of information that's an invaluable tool for our site users."
The extensive Numismatic Directory, located at http://directory.numismaticnews.net/, provides quick and easy searching capabilities to track down information on numismatic products, services, dealers, events, and clubs. It also includes browsing by major directory sections of:
Coins, US
Coins, World & Ancient
Paper Money, US
Paper Money, World
Exonumia
Supplies & Services
Find Us On The Newsstand
These sections are then broken down by other sub-sections.
Another useful aspect of the directory is the ability to find not only a business with its contact information, but then view the location on a Microsoft Virtual Earth™ map with driving directions.
Providers of numismatic products and services who are not yet listed are encouraged to apply on the Numismatic Directory home page .