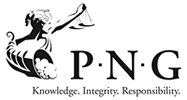 (Fallbrook, California) – An Atlanta area high school freshman, Dustin Reynolds, 15, is this year's winner of the Professional Numismatist Guild's (PNG) Young Numismatist Scholarship. The PNG scholarship covers tuition for a one-week session at the American Numismatic Association (ANA) annual Summer Seminar, airfare, meals and six nights of dormitory accommodations on the campus of Colorado College, site of the ANA headquarters.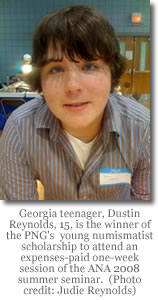 "I was pretty excited," said Reynolds, recalling his reaction when he was informed of the scholarship.
Dustin began collecting coins at the age of 13. At that time he was intrigued by Morgan dollars.
"The dollars had belonged to my grandfather and I always enjoyed looking at them. I bought a 'Red Book' (A Guide Book of United States Coins) at Barnes & Noble. My Father (Ed Reynolds) and I would visit local flea markets to buy coins.

In July of 2006 my Mom and I attended a coin show in Dalton (Georgia). The show exposed me to coins at a whole new level, and I was very intrigued with the dealers that I met at the show. Now I'm also selling coins, and I really like it," Reynolds explained.
He had a bourse table at a recent Georgia Numismatic Association show in Dalton.
"I'm balancing between being a collector and a dealer. I want to be a professional numismatist (for my career)."
Reynolds enjoys collecting varieties of early date large cents, such as the 1806/7 overdate, and says his favorite area of numismatics is "everything Seated." He would like to enroll in the counterfeit detection class at this year's ANA Summer Seminar.
His mother, Judie Reynolds, said she was "ecstatic," when her son was selected by PNG for this year's scholarship.
"I knew how important it was to him to have the opportunity to attend the summer seminar."

"When he was 13 he began reading everything that he possibly could about coins. Now he spends the majority of his weekends attending coin shows.

I like what he is doing because not only is it fun, it is also educational. Due to his obsession with coins and their value, Dustin has gained an understanding of the global economy including how the US dollar relates to other currencies, and how the gold markets affect the economy," she said.
This is the fourth annual PNG YN Scholarship.
"The funds for this important program are administered from the PNG's Gerald Bauman Memorial Fund. Bauman, who passed away in 2001, served for many years as a prominent coin dealer with Manfra, Tordella & Brookes in New York City," said Gary Adkins, PNG President.
# # #
About Professional Numismatists Guild
Founded in 1955, the Professional Numismatists Guild is a nonprofit organization composed of many of the top rare coin and paper money dealers in the United States and seven other countries. PNG member-dealers must adhere to a strict Code of Ethics in the buying and selling of numismatic merchandise. For additional information, call (760) 728-1300 or visit online at WWW.PNGdealers.com.