As precious metal prices fall, United States Mint bullion coin premiums rise. The differences make the proposition of purchasing the latest US Mint American Eagle bullion coins nearly overwhelming.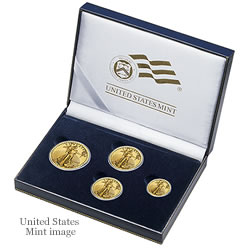 The United States Mint appears to be happy to accept higher premiums in many of their bullion coin sales.
While the Mint was quick to suspend and then readjust bullion coin prices upward when precious metal prices increased, the same quick but reverse adjustment has not been seen with key Mint bullion coins as precious metals decline.
As one example highlights, the Mint announced the pricing of 2008 American Eagle Gold Uncirculated coins on March 19, 2008. The one ounce eagle coin was set at $1,119.95. The day of that announcement London gold closed at $958.50 an ounce.
Six weeks later London gold on Thursday is at $853 an ounce. The premium differences between the two dates for the one ounce 2008 American Eagle Gold Uncirculated coin are:
2008 American Eagle Gold Uncirculated Price (ounce)

London Gold

Premium
$

Premium
%

March 19, 2008
(day Mint released pricing)

$1,119.95

$959

$160.95

14.4%

May 1, 2008

$1,119.95

$853

$266.95

23.8%
Let's compare the 2008 American Eagle Silver Uncirculated Coin with silver prices.
2008 American Eagle Silver Uncirculated Price (ounce)

London Silver

Premium
$

Premium
%

March 10, 2008
(day Mint released pricing)

$25.95

$19.57

$6.38

24.6%

May 1, 2008

$25.95

$16.64

$9.31

35.9%
24-36% markups do raise the eyebrows. They go even higher when comparing premiums for the smaller gold coins, like the one-tenth ounce American Eagle Gold.
To be fair, while the Mint indicated bullion coins prices would go down with a drop in precious metals, they never specified what that threshold was. Reducing coin prices is also much more difficult than raising them. It doesn't make for a happy collector who paid a high price today to learn tomorrow prices went down and then make a call to the Mint and get a refund.
Yet, it is also disappointing that the Mint has held prices in light of the fact that the precious metal market has been slumping in these last many weeks.
With such a price difference between new American Eagle bullion coins and that of their bullion content, it really is hard to justify a purchase. You can pay less for bullion coins of earlier years or from different countries.
Higher American Eagle bullion coins sales could help palladium Saint-Guadens coin legislation
In saying that, higher bullion coin prices could lend more support to the proposed legislation to create palladium recreated Saint-Gaudens coins. The Mint's current prices are sure to slow American Eagle sales across their bullion coins. And that's inline with two of the stated reasons within the legislation for creating the palladium version of the Saint-Gaudens Double Eagle coin.
… when the United States Mint's American Eagle Platinum Bullion Coin was launched in 1997, the average price for the metal that year was $395 per troy ounce; and

…over the past decade, the price has more than tripled, which has caused a dramatic decline in demand for these coins, from 80,050 ounces sold in 1997 to 9,050 in 2007.
The points reflect that high precious prices make American Eagle sales more difficult. (That is without taking the Mint's premiums into account.) Palladium is less expensive than gold at $406 an ounce today. The legislation argues that a palladium coin would make a solid collector and investor product that would be available to more consumers.
Skeptics could think there is some behind the scenes motivation in hurting American Eagle sales by maintaining high premiums. Is the failure to reduce prices a congressional or Mint official conspiracy to help the Saint-Gaudens' legislation?
Likely not. More probable is just the "paperwork" aspect of doing so, the slowness in catching up to the market or the desire to try and maintain set profits with inventory on hand.