Japan's Ministry of Finance plans to issue 500-yen (five dollar) coins commemorating the centenary of the Japanese immigration to Brazil, but a copyright disagreement regarding the initial coin design has caused a slight bump in the road.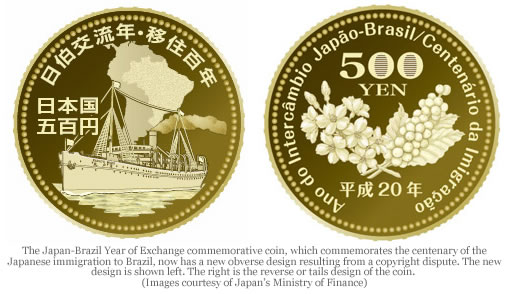 The disputed coin design showed an image of the "Commemoration Statue in the Santos Port", a monument built by a local association, the "Federation of the Associations of Provinces of Japan in Brazil". The monument includes bronze sculptures of parents and a child standing in Santos, Brazil, the location where Japanese immigrants landed in 1908 after two months of voyage.
Japan had already minted 4.8 million of the Japan-Brazil Year of Exchange commemorative coins believing an agreement in place with the association covered the rights to reproduce the design. However, it was later learned that a Brazilian artist who Japan had no agreement with also held a copyright to the design.
Unfortunately, the Ministry of Finance was quoted as saying the copyright problem was "difficult to solve." Fortunately, metal is recyclable and the 4.8 million coins already produced will not be wasted. They will simply be melted and minted again with the new design.
The new obverse or heads coin design will feature the ship Kasato-Maru, with carried the first Japanese immigrants Brazil, superimposed over a picture of the Brazilian nation. The reverse or tails design remains unchanged, and depicts "Japanese cherry blossoms and coffee beans."
The date for the commemorative coin release is set for June 18, 2008.