The second commemorative state quarter for release in 2008 honors New Mexico. The countdown for its circulation has officially started with the U.S. Mint's announcement of the release ceremony on April 7, 2008. There is also a special coin collectors forum on the day prior.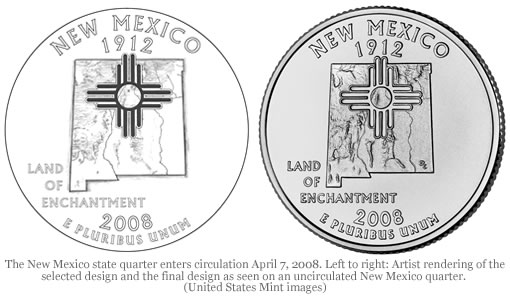 The New Mexico quarter is the 47th coin in the United States Mint's 50 State Quarters® Program. Roughly 1,000 concepts were suggested by New Mexico residents. Four of them were given to the U.S. Mint for artist renderings:
Zia Symbol over Topographical State Outline
Zia Symbol over Textured State Outline
Textured Zia Symbol over State Outline
Zia Symbol over Textured State Outline
The selected New Mexico quarter design
The selected design was that of the "Zia Symbol over Topographical State Outline" design. The design features a Zia sun symbol over a topographical outline of the State with its nickname, "Land of Enchantment." The coin also bears the inscriptions "New Mexico" and "1912."
The Zia sun symbol reflects the influence of Native American cultures throughout New Mexico. According to its design description,
The Zia Pueblo believe the sun symbol represents the giver of all good, who gave gifts in groups of four. From the circle representing life and love without beginning or end, the four groups of four rays that emanate represent the four directions, the four seasons, the four phases of a day (sunrise, noon, evening, and night), and the four divisions of life (childhood, youth, middle years, and old age).
Quarter release ceremony: location and time
New Mexico Governor Bill Richardson will be joined by U.S. Mint Director Ed Moy in the official quarter release ceremony. The event is free to the public and New Mexico quarters will be handed out to children in attendance who are under 18.
Location: Capitol Rotunda, State Capitol Building, Santa Fe, NM
Time: April 7th, 2008, 11 a.m. (MT); Quarter Exchange to immediately follow ceremony
Collectors Forum on April 6
On the eve of the launch, the public and news media also are invited to a free Coin Collectors Forum from 2:30 p.m. to 4 p.m. (MT) at the National Hispanic Cultural Center of New Mexico in Albuquerque.
References