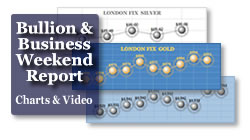 Gold was the bullions news item of the week. It punched through several new heights, breaking previous day record highs more than once.
The fears of recession and remarks by Federal Reserve Chairman Ben Bernanke signaling the Fed would take measures against recession risks helped gold's momentum.
Friday close London Fix numbers:
Silver at $16.06
Gold at $891
Platinum at $1564
New and improved silver, gold and platinum charts are below as well as several interesting gold stories from Friday, including 'How to invest in gold'.
CoinNews London Fix Charts: Silver, Gold and Platinum
(January 7-11)

The London Fix is one of the most used bullion quotes around the world. The London AM fix for gold and platinum begins at 10:30am GMT (5:30am in New York), and the PM fix begins at 3pm GMT (10am in New York). The London Fix for silver begins each business day at 12pm GMT (7am in New York).
Goldman Sachs increased its three, six and 12-month forecasts for gold due to their weaker outlook in the U.S. dollar. Their most aggressive forecast is for gold to reach $900 in six months. That compares to their previous assessment of $785. They're obviously not very "bullish" considering London gold closed Friday at $891 an ounce.
A Bloomberg article, Gold Futures Rise to Record $900.10 on Interest-Rate Outlook, discusses how:
"More than half of the 28 analysts who participated in the London Bullion Market Association's annual price survey expect gold's high to be above $1,000 this year. The survey said gold would average $862 in 2008."
Clearly, you can find analyst opinions on many positions, and many had missed the mark on the latest round of gold's height. But many point to at least a short term continual rise in gold.
How to invest in gold, by Reuters News
On Friday, Reuters published an interesting article, How to invest in gold. The article is really a short reference discussing key facts, gold market terms and various gold investment options like:
Spot market
Futures market
Exchange-traded funds
Bars and coins
It also covers several price drivers. Although the article is not all encompassing, it's a good CliffsNotes style reference on several fundamentals of how gold investing works.
Business week wrap-up video by Reuters News
CoinNews bullion related collector tools
Bullion related calculator and currency tools that may interest you: