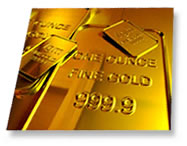 Driven by investors, gold has climbed to its latest record of $876.40 an ounce or more than $7 above last week's historic high of $869.05.
Spurring gold was a softening of the US dollar as investors weighed in the likelihood of the Federal Reserve cutting interest rates at the their Jan. 30 meeting.
China is also launching a gold future trading contract tomorrow, adding further motivation to gold's rise.
As of 10:14 a.m. EST, spot gold is at $873.90.