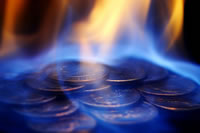 Take the new two-click poll on the CoinNews website asking that very question (found in the upper right). Surprisingly, at least so far, results have been close to evenly mixed.
Compared to the U.S., interesting and different dynamics are in play with other countries and their small change. Several countries are actually suffering through serious coinage shortages due to hoarding.
Two countries in particular, Argentine and China, have experienced an up tick in entrepreneur-like activity where people find and resell small change – for a profit – to businesses or individuals who are experiencing shortages.
Then there are countries who have had too much change in circulation and have recently abandoned their smallest denomination, as it became more of an annoyance or too costly to produce.
The U.S. appears to be in a unique position with no clear direction for its smallest coin. Some say there are too many pennies and want to melt them for their copper value while others want to protect them. Some want to eliminate the penny completely while there's actually a new law that will commemorate Lincoln with a new penny with fresh designs starting in 2009.
Given politicians have to agree to make any major decisions with coinage, if the public is split in regards to the future of the penny, we're not likely to see significant changes to its destination any time soon.
The CoinNews poll will close on 12/9 after midnight.