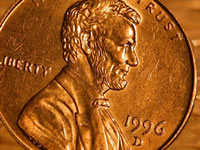 So says Democrat Congressman Zack Space of Ohio who's trying to help a company within his district. The company, Jackson Metals, would melt pennies for their copper content.
Helping businesses is hard to fault. But is newly proposed legislation that would benefit companies like Jackson Metals and change coinage laws the right thing to do? What would Jackson Metals, Rep. Space, the government and taxpayers really get from it?
First, some history…
The ban on melting 1-cent and 5-cent coins
The U.S. Treasury implemented a ban on melting 1-cent and 5-cent coins that went into effect in April of 2007.
Why the ban? It's no longer "cheap" to make small change. With the higher copper prices, the estimated cost for producing a single penny hovers around 1.7 cents.
According to a statement at the time by United States Mint Director Edmund Moy,
"The new rule safeguards the integrity of U.S. coinage and protects taxpayers from bearing the costs to replace coins withdrawn from circulation."
Violating the ban gets more than a small slap in the face. It can lead up to a $10,000 fine and 5 years in prison.
New legislation, H.R. 3956, attempts to straighten everything out
Throw in H.R. 3956, a newly introduced bill by Mr. Space. First, it contains the language of an older bill, H.R. 3330, which would give the U.S. Treasury the authority to change the metal composition of coinage.
That's something the Treasury and U.S. Mint wants. Without having to go through congress, the Mint could use different metals to produce penny and nickel coins that once again made money. Taxpayers would save as well.
The second part of the bill adds provisions that would help those who would melt coins. A section states:
"…The Secretary of the Treasury shall have no authority to prescribe any regulations under section 5111(d) of title 31, United States Code, that would limit or prohibit the export, melting, or treatment of the 1-cent coin… "
If coins are removed from circulation that would have to replaced, it's difficult to see any positive merits to this part of the bill. That is, outside the direct beneficiaries of it.
And here's the kicker… How can anyone mentally picture a person getting sent to prison for 5 years one day and then the very next day make money… It doesn't sit right.
Either the government was outrageously absurd in the regulatory ban and need for it, or there's true merit for it and midnight legislating should slow down.
The good news? A slow down is indeed in the works. Hearings on the bill have been scheduled for this week.
For whatever it's worth, is the bill living up to its name, Coin Modernization and Taxpayer Savings Act of 2007?
Perhaps that's the largest point of amusement in all this.
First, melting coins doesn't naturally illicit a thought process of modernization.
Secondly, had the cost for taxpayers truly been respected, coin composition changes could have been recommended or at least planned long before now. It has been, after all, more than a year since the government's known they've been losing money with the penny and nickel.