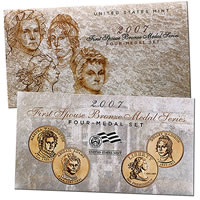 The Bronze First Spouse medals were initially scheduled for June and then July. The U.S. Mint held off but now has this year's complete set ready for sale.
The set includes 1 5/16 inch medals of Martha Washington, Abigail Adams, Thomas Jefferson's Liberty, and Dolley Madison. All are packaged together in a custom envelope with a descriptive insert about the spouses and the program. The price for the set is $12.95.
The first three Presidential Spouse gold coins sold out during their first day and within hours of release and the Dolley Madison isn't yet available. For some, these bronze medals may be the only way to own something from the official commemorative First Spouse Program.
Although you can order the medal set now, they won't begin shipping until 12/03. Ordering online is the easiest method, but you can also call the Mint directly and place an order at 1-800-USA-MINT (872-6468).