It's been a week since the House passed an amendment, 295-127, to change the design of the $1 Presidential Coin. There is nothing new to update other than a recap of the amendment itself, since its news has been quiet.
The amendment was introduced by Rep. Roger Wicker, R-Miss. Its main intent is to remove the phrases "In God We Trust" and "E Pluribus Unum" from the edge the presidential $1 coins and instead place them on their faces, like traditional coins. Wicker said:
"The words of these two phrases symbolize who we are as Americans and should not be relegated to the rim of this new, high-profile coin. They should continue to be proudly and prominently displayed."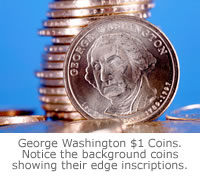 Congress actually initiates and authorizes all coin programs. They stipulated the placement of the mottos and emblems to the presidential coin edges in the Presidential $1 Coin Act of 2005. Why the reversal?
The very public U.S. Mint errors where some presidential coins were released with missed edge letterings and then actually seeing the new coins helped highlight what some feel is a lack of the prominent motto and emblem placements.
Should the amendment pass, it'll be interesting to see the affects, if any, on coin product time-lines and with collectors. According to U.S Mint coin production numbers, from January 07 through May 07, nearly 622M of the Washington and Adams Presidential $1 coins have already been produced.
Already being sold are the collectors 2007 Presidential $1 Coin Proof Set, which contains all four of this year's $1 coins. On top of that, the circulating $1 Presidential coins of Jefferson and Madison are set for August 16th and November 15th, respectively. The Presidential $1 Coin Act requires the Secretary of the Treasury to mint and issue $1 coins honoring the United States Presidents in the order in which they served, with four new designs annually through 2016.
The amendment had strong bipartisan support in the House and now it's up to the Senate. Should it eventually become law, it'll shake things up a bit more with the Presidential $1 Coin program.