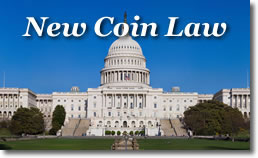 President Obama signed legislation into law on Monday, August 16, that authorizes the United States Mint to strike 2012 Star Spangled Banner commemorative coins.
Public Law 111-232 was introduced as H.R. 2097 in the U.S. House by Rep. Dutch Ruppersberger on April 23, 2009. It passed in the House on September 9, 2009, and in the Senate on August 2, 2010.
Entitled the Star-Spangled Banner Commemorative Coin Act, the new law authorizes up to 600,000 coins to celebrate the bicentennial writing of the Star-Spangled Banner by Francis Scott Key.
Read the rest of this article »
{ 1 comment }