Billy G. Crawford's latest bi-monthly issue of Die Variety News magazine is now available online and for free.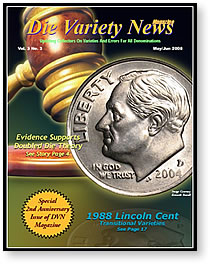 The magazine's May/June issue #13 sports, as its title suggests, a variety of interesting coin topics that are sure to please the collector. The numerous descriptive photos within the magazine are great in teaching new collectors about various coin die varieties while keeping experienced collectors well informed.
The magazine has started its third successful year in publication. This latest issue continues its tradition of top die variety news, including subjects on:
An analysis of the 2004-D Roosevelt Dime
The cover story discusses an apparent double die resulting in "distinct and raised remnants" by Roosevelt's ear.
Read the rest of this numismatic news article »
{ 0 comments }