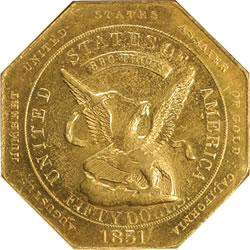 IRVINE, Calif. – Bowers and Merena Auctions, America's leading rare coin and currency auction house, hosted their Beverly Hills Rarities Sale on Saturday, September 13, 2008, at The Tower Beverly Hills. The 933-lot auction of high-end rarities realized a total of $3,317,135.
The spotlight of the auction was on the new discovery 1851 Augustus Humbert $50 Gold piece of the Reeded Edge, 880 THOUS (K-5, Rarity-5) variety graded MS-65 * by NGC that realized $460,000 after an excited round of bidding. Prior to the auction, NGC chairman Mark Salzburg called it "the most memorable coin I have graded all year."
It is the only Humbert gold coin of any denomination with an NGC grade of MS-65 *, and no Humbert gold coins of any denomination or variety have been graded finer than MS-65 at either PCGS or NGC.
Read the rest of this numismatic news article »
{ 1 comment }