The Highest Graded Mint State Humbert Gold Coin of Any Denomination or Variety Graded MS-65 * by NGC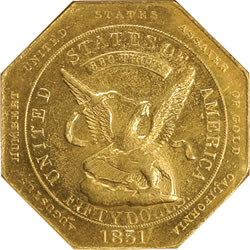 IRVINE, Calif. – Bowers and Merena Auctions, America's leading rare coin and currency auction house, will auction an extremely rare and exceptional 1851 Augustus Humbert $50 Gold Piece at their Beverly Hills Rarities Sale on Saturday, September 13, 2008, at The Tower Beverly Hills, prior to the Long Beach Coin, Stamp & Collectible Expo.
Lot viewing for the entire auction is scheduled for Thursday through Saturday, September 11-13.
The coin, cataloged as August Humbert. $50 Gold. Reeded Edge. K-5. Rarity-5. 880 THOUS. MS-65 * (NGC), boasts a combined PCGS and NGC Population (1851 $50 Reeded Edge, 880 THOUS variety only) of just 1; 0 finer.
"This coin is a new discovery that has never been available for sale to our knowledge," said Steve Deeds, president of Bowers and Merena.

"The rarity, the quality, the history – it all adds up to make this one spectacular coin of the caliber that even the most experienced numismatists only see a few times in a lifetime.

This coin is one of the high points of the year at Bowers and Merena and we know it is going to a cause a big buzz for our September Beverly Hills Rarities Sale."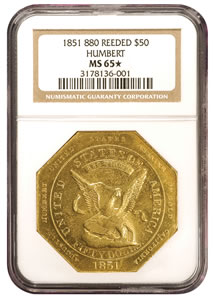 Fewer than 100 August Humbert Fifty-Dollar gold coins of all varieties have been certified as Mint State by PCGS and NGC, and the actual number of individual coins is probably only 60-70 pieces considering resubmissions of the same example(s) in attempts to secure a higher grade.
Most of those coins, while strictly Mint State in that their surfaces are free of wear, are confined to lower grades through MS-63.
Distracting abrasions (some severe) bear much of the blame for this grade distribution, but subdued, lackluster surfaces are also seen quite frequently.
Given the rustic conditions under which it was created, the strained economic conditions of Gold Rush California, and the various standards of numismatic conservation that have existed over the years, this Gem 1851 880 THOUS Humbert Fifty offered by Bowers and Merena should not exist.
"This was the most memorable coin I have graded all year, a true pleasure to see such an original coin with original luster," said Mark Salzberg, NGC chairman. "It is definitely destined to be a centerpiece coin for the finest collection."
This impressive and rare Augustus Humbert $50 Gold Piece will be offered for auction in Bowers and Merena's Beverly Hills Rarities Sale on September 13 alongside more than 900 other extraordinary coin lots. The complete auction and lot viewing schedule as well as the catalog in its entirety will be available on the Bowers and Merena website at www.bowersandmerena.com, and interested bidders are also invited to request a printed catalog by calling 800-458-4646.
About Bowers and Merena Auctions
Bowers and Merena Auctions was founded in 1983 and has grown to become the-world's preeminent numismatic auctioneer with more than half a billion dollars in rare coin and currency sales. Bowers and Merena has handled four of the five most valuable United States coin collections ever sold, including the Louis E. Eliasberg Sr. Collection, the Harry W. Bass Jr. Collection, the Garrett Collection for The Johns Hopkins University, and the Norweb Collection.
For more information about Bowers and Merena Auctions and the 1851 Humbert $50 Gold Piece, call 800.458.4646. For media inquiries, ask for president Steve Deeds. Complete prices realized for all past auctions are available at www.bowersandmerena.com.
# # #