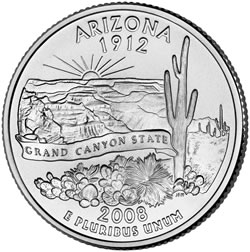 Arizona quarters were launched into circulation yesterday with the United States Mint release ceremony on the lawn of the state Capital in Phoenix.
The ceremony was full of local excitement with a Mariachi band playing, free mint ice-cream drumsticks and free Arizona quarters for everyone 18 and under. Earlier, United States Mint Director Ed Moy commented,
"Children make up a good portion of the 147 million Americans plugging the coins into their commemorative folios or folders. This has educated a whole generation of Americans in geography and history."
The Arizona state quarter is strikingly attractive with its Grand Canyon and saguaro cactus design theme. Over 4,200 quarter design suggestions from across the state were sent to the 24-member Arizona State Quarter Commission appointed by Governor Janet Napolitano.
Read the rest of this numismatic news article »
{ 0 comments }