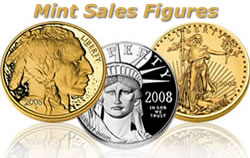 No sales figure changes were reported this week for the remaining 2008-W American Eagle Gold Uncirculated Coins. Unusual, given other collector coins moved and coins did sell. In fact, the gold eagle four-coin set sold out Tuesday.
It will be another week of waiting to see how the US Mint updates the numbers next week.
For the second consecutive week, the 2009 Ultra-High Relief and uncirculated 2008-dated American Eagle gold coins went up in price on Thursday. The increases follow a week of higher gold prices and the Mint pricing policy that was launched on January 12.
Read the rest of this numismatic news article »
{ 4 comments }