A Napa Valley California wine company, whose name was inspired by the design of the fabled 1787 Brasher Doubloon once owned by the vineyard proprietor, has created a mega-size bottle of fine wine standing over 2½ feet tall and weighing about 60 pounds.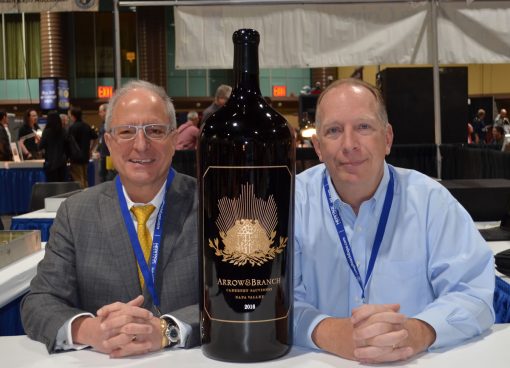 It was purchased by another numismatist who took delivery of the huge bottle at the January-February 2019 Long Beach Coin, Currency, Stamp and Sports Collectibles Expo (www.LongBeachExpo).
"The bottle contains 15 liters — 507 ounces — of our 2016 Cabernet Sauvignon 'Black Label,' the equivalent of 20 normal size bottles," explained Steven L. Contursi, Chief Executive Officer of Rare Coin Wholesalers (www.RCW1.com) in Irvine, California. "The wine alone weighs a little more than 31.6 pounds and the huge bottle weighs about another 30 pounds."
He and his wife, Seanne, are proprietors of Arrow&Branch Estate Vineyard in Napa Valley (www.ArrowandBranch.com).
Contursi delivered the $4,500 bottle of wine to Lee Minshull, President of Minshull Trading in Palos Verdes, on January 31, 2019 at the Long Beach Expo.
It took several months for Bergin Screen Printing & Etching in Napa to custom prepare the bottle and hand etch the intricate label depicting arrows and branches.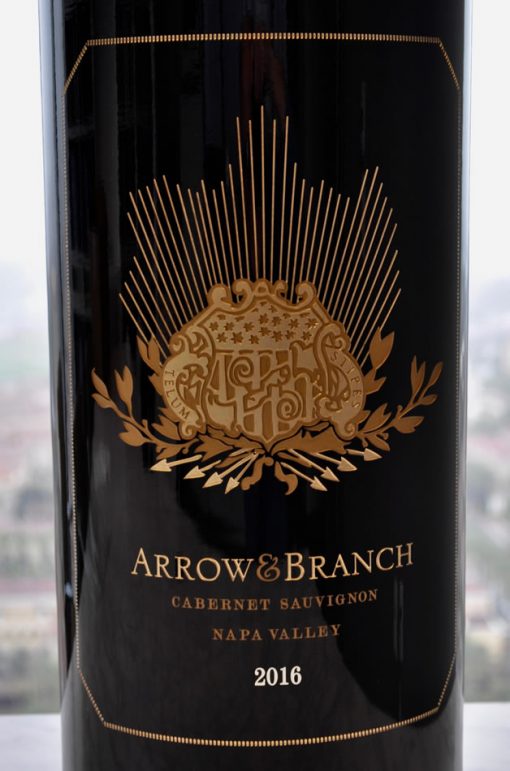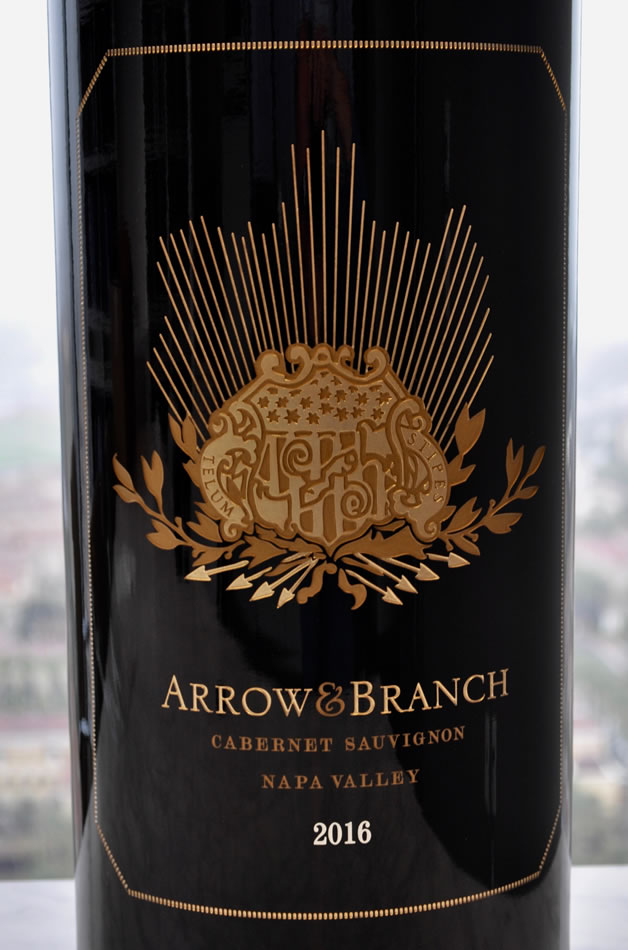 Contursi was inspired to name the vineyard and wine brand Arrows&Branch as a reference to the unique Brasher Doubloon with the EB punch mark on eagle's breast that he owned when he and his wife founded their wine company in 2007. The gold coin created by Ephraim Brasher depicts an eagle clutching arrows in one talon and an olive branch in the other.
In the wine world, 15-liter bottles are called Nebuchadnezzar, named after an ancient King of Babylon, and this is the first and only such bottle produced by Arrow&Branch.
"To use a coin grading metaphor, it's one and none bigger," said Contursi.
Minshull said he appreciates fine quality wine and has been a wine collector for many years who appreciates quality fine wine. He has known Contursi for over 40 years.
"My nickname is 'Big Hands Lee,' and I called Arrow & Branch last year to see if they would make a giant bottle for me."
Minshull originally thought he would store the wine for a few years, but now has a specific special occasion for opening it this coming December.
"It will be my 60th birthday, and sharing this with our family and friends would be the perfect toast to the day," he said.
The Arrow&Branch 2016 Cabernet Sauvignon Black Label vintage recently received a 94 rating from critic Antonio Galloni, founder of Vinous, one of the most respected wine publications in the world.