Society of Private and Pioneer Numismatists
Experts at the Society of Private and Pioneer Numismatists (SPPN) meeting settle four decades of uncertainty
A panel of leading numismatists determined the questionable 1853 United States Assay Office of Gold $20 proof, prooflike, and similar coins to be forgeries produced from transfer dies.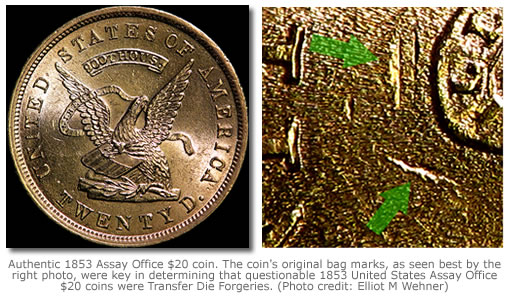 The panel's discussion was the main program at the annual meeting of the Society of Private and Pioneer Numismatists held in Baltimore, Maryland Saturday, August 2nd, 2008 as part of the American Numismatic Association's World Fair of Money.
The Transfer Die Forgeries first appeared during the late 1950's, "discovered" by Paul Franklin through a bank teller in Arizona. Franklin and John J. Ford Jr. sold hundreds of these pieces throughout the 1960's as genuine pieces struck in San Francisco by the U.S. Assay Office in 1853.