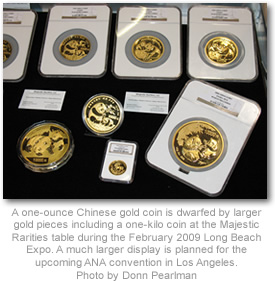 The largest public array ever assembled in the United States of huge, modern, certified Chinese gold coins, ranging in size from five ounces to one kilo (32.15 ounces) each, will be displayed at the American Numismatic Association's World's Fair of Money® convention in Los Angeles, August 5 – 9, 2009.
The presentation comes with an education lesson from the exhibitor, Nicholas Brown of Majestic Rarities in Chicago: "Protect your coins. Protect yourself!"
"There will be over 300 ounces of large, low-mintage gold.It will be the most amazing display of modern Chinese coins ever seen in the United States," said Brown.
Many of the rare coins in the planned display at the ANA convention (at combined booths 331 and 430) have a low mintage of only 200 each or less.