Justin Duane, Editor of Coinzine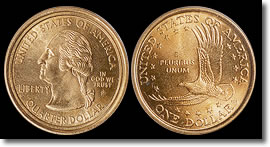 In commemoration of the new book, the 100 Greatest U.S. Error Coins by David Camire, Nicholas Brown and legendary error dealer Fred Weinberg, we've decided to discuss the greatest error in United States history... the 2000 Sacagawea Mule.
Debuting in May of 2000, this slip up was destined to make history. At the time, it was the only known "mule" coin in United States history.
For those who are not professional numismatists, a mule is a pairing of two different coin designs on one coin -- in this case, a State Quarter and the brand new Sacagawea dollar.