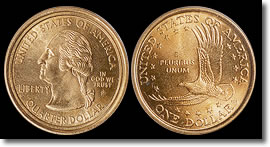 In commemoration of the new book, the 100 Greatest U.S. Error Coins by David Camire, Nicholas Brown and legendary error dealer Fred Weinberg, we've decided to discuss the greatest error in United States history… the 2000 Sacagawea Mule.
Debuting in May of 2000, this slip up was destined to make history. At the time, it was the only known "mule" coin in United States history.
For those who are not professional numismatists, a mule is a pairing of two different coin designs on one coin — in this case, a State Quarter and the brand new Sacagawea dollar.
Previous to the discovery specimen of this famous coin, mules were not known to exist in United States coinage, though commonly found in foreign series.
After authentication and subsequent confirmation of it's existence by the United States Mint, a firestorm of controversy was set off. How could this happen? Was it intentional? The biggest debate — was it legal to own?
After near forensic inspection and an unconfirmed report by an anonymous US Mint employee, it was determined that the anomaly was produced due to the similar sizes of the "coin dies" of a State Quarter and the new Sacagawea dollar. A coin die is the part of a coin press that places the design on the coin. Ironically, this was the very reason that the previous dollar coin, the Susan B Anthony, was despised by the public.
The quarter die was placed into a press currently in production of Sacagawea dollars. The rest is history — several coins were struck before the error was discovered. Many of the coins were discovered before reaching the public and were subsequently destroyed.
Interestingly, upon closer inspection of the 10 known specimens, it's apparent that the errors were produced at three separate times. It's theorized that these are "copycat" errors produced by rogue US Mint employees after word spread of the first discovery. Many of the coins were discovered in Philadelphia, the home of the primary United States Mint.
While it's been nearly a decade since the last sale of the Sacagawea Mule, it's speculated that they could bring a whopping $250,000 at auction.
8 of the 10 known specimens have been handled by the author, Fred Weinberg of Beverly Hills. Check out his website for more information on the mules.
Justin Duane has been an active collector since the tender age of 8 and once traded his baseball card collection for his first car. He is a well known buyer in the numismatic industry and works in product development for a major coin retailer since 2002. For more articles by Duane, visit his site at www.coinzine.net.