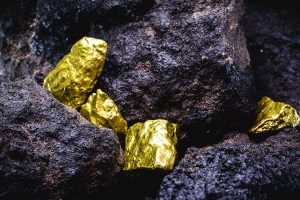 On Friday, three out of four major precious metals advanced, with palladium standing out for its daily loss but more so for its impressive weekly gain of over 5%, which was the highest among the group. Gold, meanwhile, had the weakest performance among the metals for the week.
Up for a second day after hitting a three-week low on Wednesday, gold for December delivery tacked on $13.40, or 0.7%, to settle at $1,946.20 an ounce on the Comex division of the New York Mercantile Exchange.
"Gold and silver are rallying on a wall of worry," Reuters quoted Tai Wong, a New York-based independent metals trader. "The UAW strike looks like it could last some time given what the union is demanding. And the possible govt. shutdown at the end of the month is getting more press," Wong said.
Gold prices inched 0.2% higher this week after having fallen by 1.2% last week. On Wednesday, gold marked its lowest settlement since August 22, trading at $1,932.50 an ounce. In terms of year-to-date performance, the value of the yellow metal has risen by 6.6%.
Looking to the week ahead, Kitco News offers the following forecasts via their Wall Street vs. Main Street surveys:
"This week, 12 Wall Street analysts participated in the Kitco News Gold Survey, and their predictions were evenly distributed, with four experts each, or 33%, expecting gold prices to be bullish, bearish and unchanged during the week ending September 22.

Meanwhile, 415 votes were cast in online polls. Of these, 180 respondents, or 43%, looked for gold to rise next week. Another 156, or 38%, expected it would be lower, while 79 voters, or 19%, were neutral in the near term."
Snapping a two-session losing streak, silver for December delivery jumped 39.2 cents, or 1.7%, closing at a price of $23.386 an ounce. This daily gain resulted in a weekly increase of 0.9% after prices tumbled 5.7% last week. Year to date, silver prices have declined by 2.7%.
In other precious metals, both on Friday and for the week:
October platinum added $18.40, or 2%, to end at $929.50 an ounce, increasing its weekly gain to 3.9%.

Palladium for December delivery shed $2.10, or 0.2%, to finish at $1,252.70 an ounce, trimming its weekly increase to 5.1%.
Reviewing their performance since the beginning of the year, platinum has declined by 14.2%, whereas palladium has dropped by 30.3%.
US Mint Bullion Sales in 2023
On Thursday and Friday, U.S. Mint bullion sales remained unchanged. They advanced for the first time this week on Wednesday, with increases of 20,500 ounces in American Gold Eagles, 1,500 ounces in American Gold Buffalos, and 785,000 ounces in American Silver Eagles.
The table below presents a breakdown of U.S. Mint bullion products sold, with columns indicating the number of coins sold (not total ounces) during different time periods.
US Mint Bullion Sales (# of coins)
Friday
Last Week
This Week
July
August
September
2023 Sales
$50 American Eagle 1 Oz Gold Coin
0
3,500
8,500
41,000
78,000
12,000
756,500
$25 American Eagle 1/2 Oz Gold Coin
0
0
10,000
0
2,000
10,000
85,000
$10 American Eagle 1/4 Oz Gold Coin
0
0
22,000
0
2,000
22,000
156,000
$5 American Eagle 1/10 Oz Gold Coin
0
20,000
15,000
0
150,000
35,000
570,000
$50 American Buffalo 1 Oz Gold Coin
0
14,000
1,500
16,500
19,500
15,500
328,000
$1 American Eagle 1 Oz Silver Coin
0
717,000
785,000
209,100,000
3,124,000
1,502,000
16,441,000
$100 American Eagle 1 Oz Platinum Coin
0
0
0
0
0
0
12,700