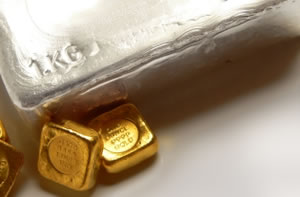 Precious metals futures advanced on Friday and most of them logged weekly gains — for gold and silver, their first in three weeks.
Gold for April delivery rose $2.30, or 0.2%, to settle at $1,324 an ounce on the Comex division of the New York Mercantile Exchange.
"Gold is seeing some pent-up buying. Gold was showing over-sold conditions on the chart," Reuters quoted Bob Haberkorn, senior market strategist at RJO Futures in Chicago. "I think the market was pricing in good news of better-than-expected jobs numbers."
On Friday, the Labor Department reported that the U.S. economy added 313,000 jobs in February, the biggest monthly increase since July 2016.
Gold futures edged up 0.05% this week after slipping 0.5% last week and falling 1.9% the week before then. The yellow metal is 1.1% higher on the year to date.
In looking ahead to next week, Kitco News offers the following forecasts via their Wall Street vs. Main Street survey:
"Seventeen market professionals took part in the weekly Kitco News Wall Street survey. There were 11 votes, or 65%, calling for gold prices to slide over the next week. Another two voters, or 12%, look for gold to rise, while four, or 24%, call for a sideways market or are neutral.

Meanwhile, 663 voters took part in an online Main Street poll. A total of 314 voters, or 47%, said bearish. Another 270 voters, or 41%, said bullish, while 79, or 12%, were neutral."
Silver for May delivery gained 10.8 cents, or 0.7%, to finish at $16.608 an ounce. Silver futures advanced 0.9% this week after they shed 0.1% last week and declined 1.4% the week before then. Silver is 3.1% lower on the year so far.
In PGM futures on Friday and for the week:
April platinum added $11.90, or 1.3%, to $964.20 an ounce, but declined 0.09% on the week.

Palladium for June delivery jumped $21.25, or 2.2%, to $986.85 an ounce, for a modest 0.02% weekly increase.
The two metals remain divided on the year with platinum 2.8% higher and palladium 7% lower.
London Precious Metals Prices
London precious metals prices ended mixed on Friday and for the week. In comparing their levels from Thursday PM to Friday PM:
Gold dipped 40 cents, or less than 0.1%, to $1,320.60 an ounce.
Silver rose a half penny, or less than 0.1%, to $16.485 an ounce.
Platinum declined $5, or 0.5%, to $949 an ounce.
Palladium lost $1, or 0.1%, to $984 an ounce.
As for the week in LBMA metal prices, silver rose 0.2% while the others logged declines of 0.1% for gold, 2% for platinum, and 0.9% for palladium.
US Mint Bullion Sales in 2018
U.S. Mint bullion sales were also mixed this week with gold coins moving quicker and silver coins moving slower. In week-over-week comparisons:
Gold coins climbed by 4,500 ounces after rising by only 500 ounces a week earlier. Splits included 3,500 ounces in American Gold Eagles compared to zero gains last week and 1,000 ounces in American Gold Buffalos against 500 ounces previously.

Silver coins moved up by 165,000 ounces compared to 337,500 ounces last week. Sales this week came entirely from American Silver Eagles. Last week, the Mint sold 237,000 ounces in American Silver Eagles and 100,000 ounces in Pictured Rocks 5 oz. silver bullion coins.
Below is a sales breakdown of U.S. Mint bullion products with columns listing the number of coins sold during varying periods.
US Mint Bullion Sales (# of coins)
Friday
Last Week
This Week / March
February
2018 Sales
$100 American Eagle 1 Oz Platinum Coin
0
0
0
20,000
20,000
$50 American Eagle 1 Oz Gold Coin
0
0
2,500
5,000
43,500
$25 American Eagle 1/2 Oz Gold Coin
0
0
0
0
16,000
$10 American Eagle 1/4 Oz Gold Coin
0
0
0
0
26,000
$5 American Eagle 1/10 Oz Gold Coin
0
0
10,000
5,000
95,000
$50 American Buffalo 1 Oz Gold Coin
0
500
1,000
2,500
27,500
$1 American Eagle 1 Oz Silver Coin
0
237,500
165,000
942,500
4,342,500
Pictured Rocks 5 Oz Silver Coin
0
20,000
0
20,000
20,000