One of the elite coins from the prestigious Hunt Collection, a coin considered the most historically important of all ancient coins, will find a new home when it is sold in Heritage Auctions' CSNS World Coins Platinum and Signature® Auction May 3-5.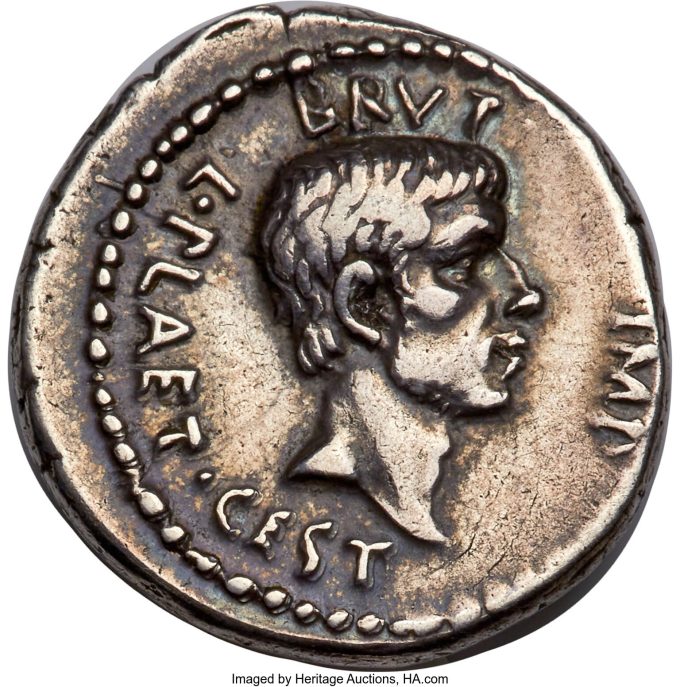 The Marcus Junius Brutus, Assassin of Caesar and Imperator (44-42 BC), with L. Plaetorius Cestianus, as Magistrate. AR denarius (19mm, 3.72 gm, 12h). NGC XF 5/5 – 4/5, Fine Style (estimate: $450,000+) is the only certified example ever to come to auction that has received a Fine Style designation from NGC.
"The significance of this coin is impossible to overstate," says Cris Bierrenbach, Executive Vice President of International Numismatics at Heritage Auctions. "It is the only Roman coin to mention a specific date and the only Roman coin to openly celebrate an act of murder.

"In addition, this magnificent coin has been a part of some of the most significant coin collections of the last century, including those of Peter Weller, Nelson Bunker Hunt and Sy Weintraub, which plays a significant part in the surging interest and demand."
In addition to the absence of a date and the reference to murder, it also is one of the very few specific coins to be mentioned by a classical author. In his account of the Roman civil wars of 49-31 BC, the Roman historian Dio Cassius wrote, "Brutus stamped upon the coins which were being minted his own likeness and a cap and two daggers, indicating by this and by the inscription that he and Cassius had liberated the fatherland." The EID MAR type was selected in a 2008 vote by top numismatists as No. 1 of the "100 Greatest Ancient Coins."
A SICILY. Syracuse. Unsigned dies by Kimon, ca. 405-400 BC. AR decadrachm (40mm, 43.21 gm, 9h). NGC Choice XF★ 4/5 – 5/5, Fine Style (estimate: $150,000+) is part of the series of silver decadrachms by Kimon and Euainetos that were struck in considerable numbers, likely to pay the Greek mercenary soldiers who flooded Sicily to fight the expanding power of Carthage.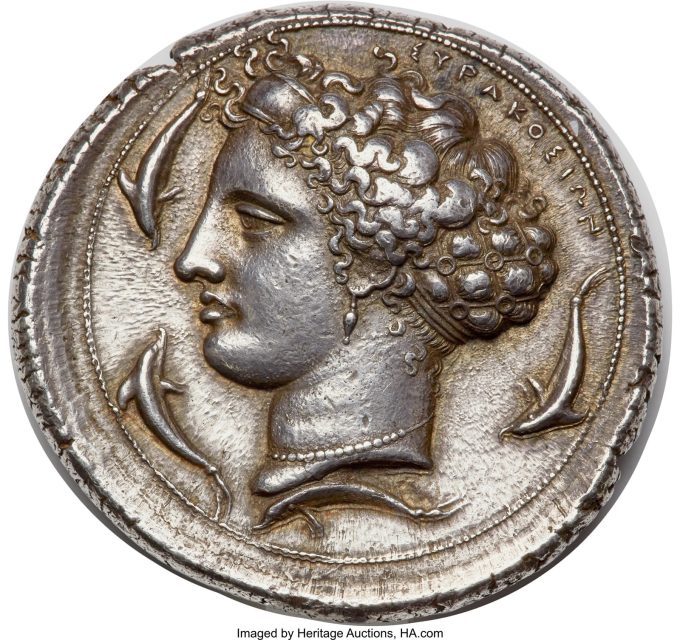 Kimon's decadrachm design, as exemplified by this impressive piece, features a highly individualized and realistic head of Arethusa, clearly modeled on a real-life Greco-Sicilian woman. Her hair is bound in an elaborate jeweled net and a wide hairband, or ampyx. On the obverse, Kimon's four-horse chariot races to the left at breakneck speed while the goddess Nike flies serenely above, reaching out with a laurel wreath to crown the victorious charioteer.
A LYDIAN KINGDOM. Croesus (561-546 BC). AV stater (17mm, 10.77 gm). NGC MS★ 5/5 – 5/5 (estimate: $100,000+) is an exceptionally well-struck example from the series that can be called the "world's first major gold coinage." The Lydian kingdom and several Greek city states of Asia Minor previously had struck coins in electrum, a natural alloy of gold and silver, but the accession of Croesus to the Lydian throne, circa 561 BC, brought with it a revolution in the world economy. Among the most significant results was the introduction of a bimetallic coinage in gold and silver — first augmenting and then replacing electrum issues.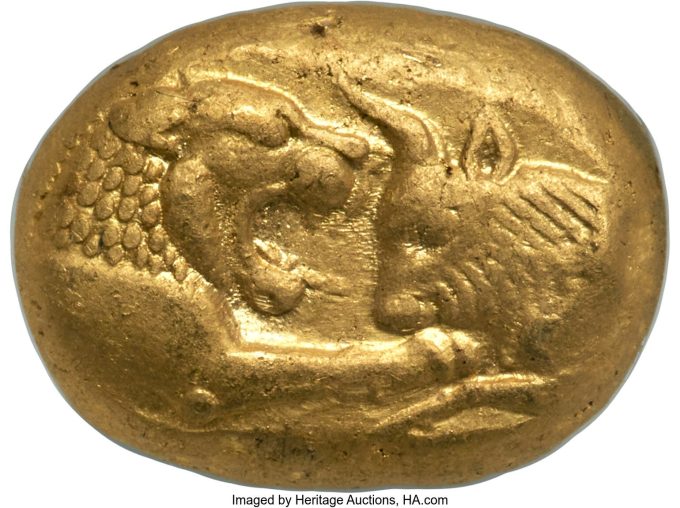 The creation of separate gold and silver denominations ranging from a full stater down to 1/96th of a stater was a visionary move that had a major impact on the ancient economy. Gold staters were initially issued by Croesus on a "heavy" standard of about 10.7 grams, the same weight as the new silver stater denomination. Since silver is a lighter metal, the gold issues — like the one offered here — were smaller in size and much more valuable.
A Constans, as Augustus (AD 337-350). AV 4-1/2 solidi (40mm (45mm with suspension), 21.08 gm, 6h). NGC (photo-certificate) AU 5/5 – 1/5, wrinkled, scuffs, mounted (estimate: $80,000+) is the previously unknown companion piece to RIC VIII 128 — Constantius II medallion of 4.5 solidi (20.17 gm).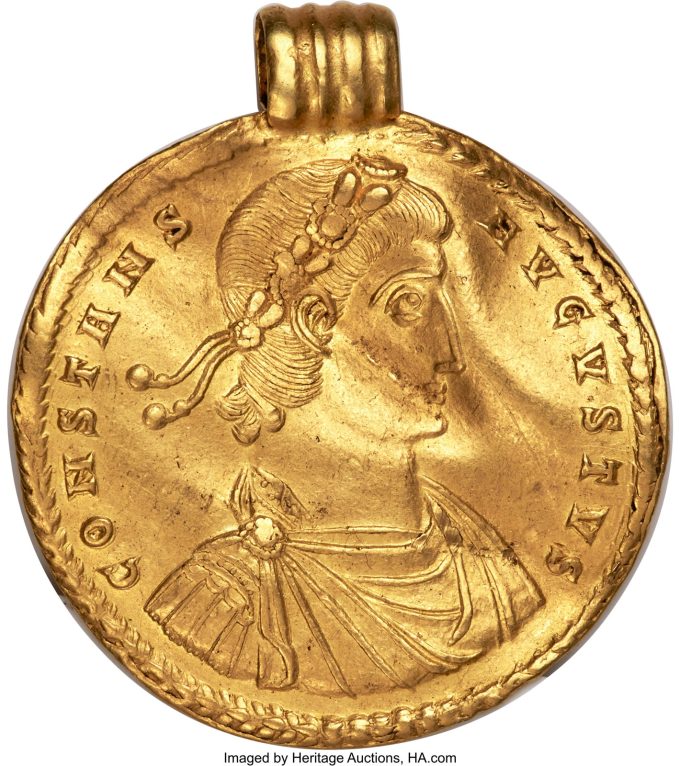 It also is a companion to a previous medallion of the same type but different dies that was sold through Heritage Auctions in 2019 for $156,000.
In his book, Electrum and the Invention of Coinage (Dennis McMillan, 2011), author Joe Linzalone presents a convincing case that an IONIA. Uncertain mint. Ca. 650-600 BC. EL stater (20mm, 14.38 gm). NGC Choice AU 5/5 – 5/5 (estimate: $65,000+) should be considered the first true coin type ever struck. Pre-weighed lumps of electrum, some marked with a rough punch, had been employed as a medium of exchange for some years before this issue, but they lacked anything that could be called an obverse "type" or design; in his early treatise on economics and money, Aristotle stated that the addition of an obverse image was the decisive step to converting bullion into coinage. The striated stater is of special importance because it is the highest denomination initially struck; all other denominations served as fractions of a stater.
A Norway: Christian V gold 2 Ducat 1673 AU55 NGC (estimate: $40,000+) is an exceedingly rare representative from King Christian V, who ruled over Denmark and Norway from 1670-99.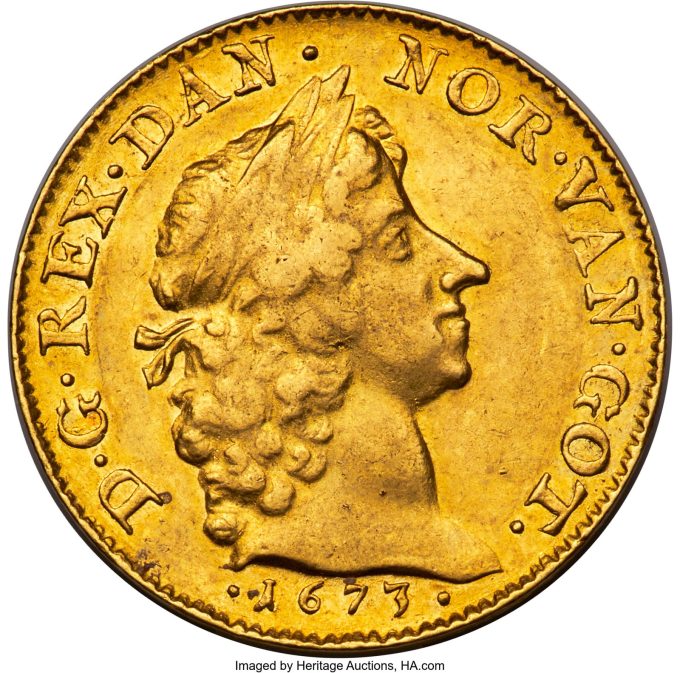 This auction marks the first time this coin ever has been offered at Heritage Auctions.
A Great Britain: Victoria Proof "Gothic" Crown 1847 PR64 Cameo NGC (estimate: $30,000+) is a spectacular example of this rare subvariety, distinguished by the pure silver planchet and plain edge.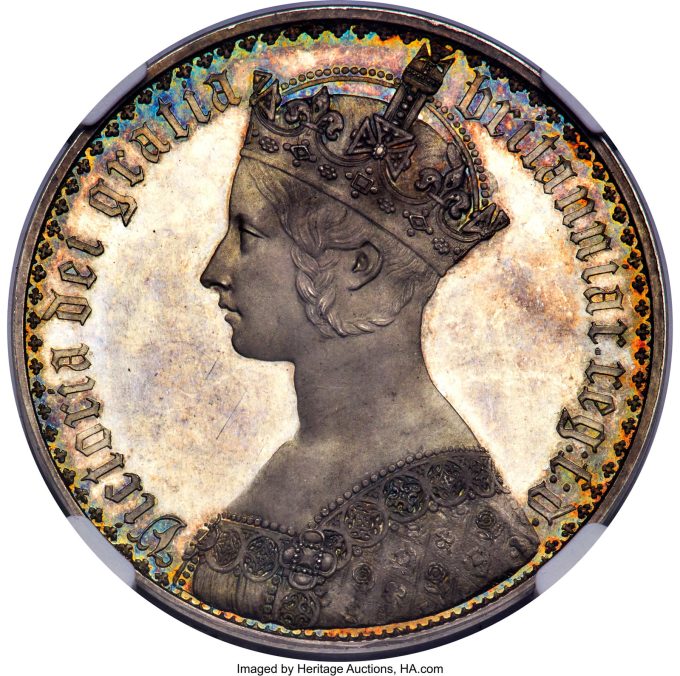 The offered example is among the finest of the surprisingly few seen on the auction market in recent years.
A German States: Münster. Ferdinand von Bayern 2 Taler 1647-EK MS62+ NGC (estimate: $30,000+) is an incredible rarity from the multiple-Taler series across all German States issues. There are no auction records in the last 20 years of a 1647-dated 2 or 3 Taler; the only six examples to appear were dated 1638 and of a slightly modified obverse, with none appearing in the prominent Virgil Brand, Cape Coral or Köhlmoos collections.
A Czechoslovakia: Republic gold 10 Dukatu 1935 MS66 NGC (estimate: $30,000+) of this date and denomination is exceedingly rare, and even moreso in Gem status. The offered example is topped by just three examples at NGC.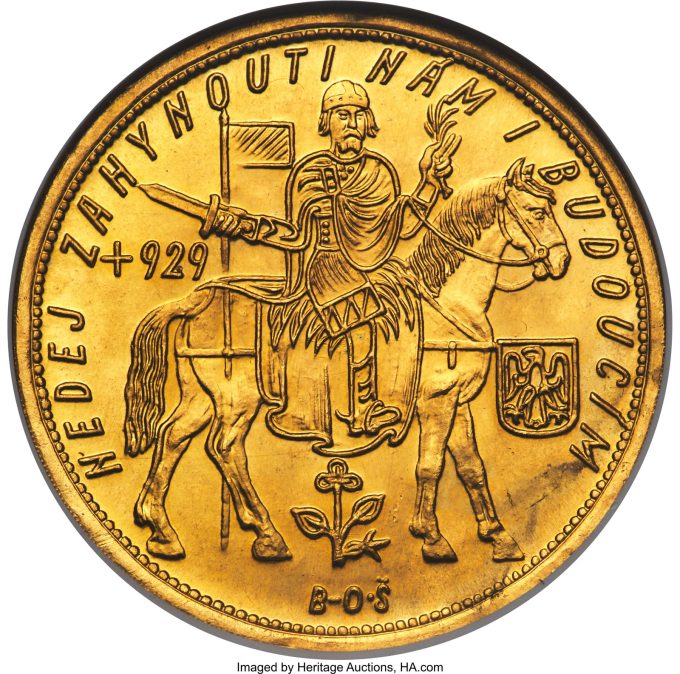 An Ecuador: Republic gold 8 Escudos 1838 QUITO-MV AU55 NGC (estimate: $20,000+) is among the great rarities of Ecuadorian origin and the first date of this exceedingly elusive type. This is only the second of this denomination ever handled at Heritage Auctions, and the first of this date and assayer combination to come to market since the Eliasberg specimen, a lesser example designated XF40 by NGC that brought $27,600 in 2005. The offered example is the finest of three between both grading services by 15 grade points.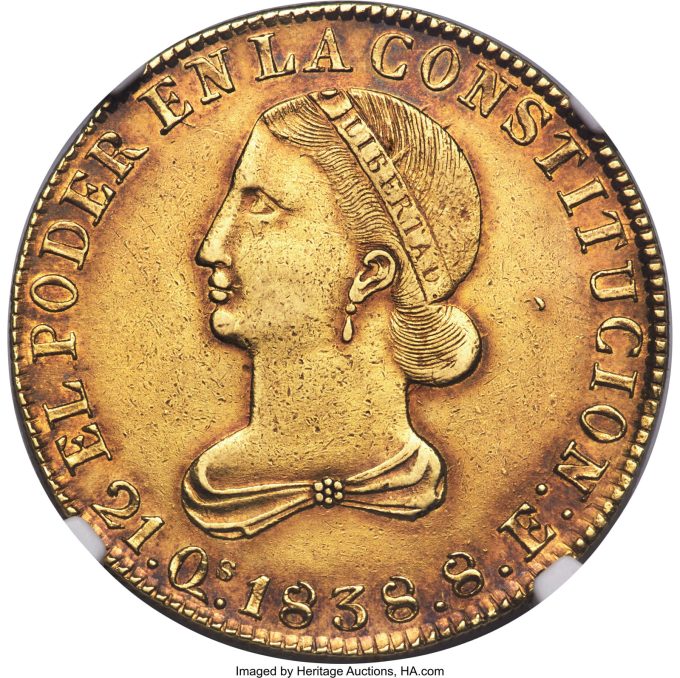 Images and information about all lots in the auction can be found at HA.com/3107.
About Heritage Auctions
Heritage Auctions is the largest fine art and collectibles auction house founded in the United States, and the world's largest collectibles auctioneer. Heritage maintains offices in New York, Dallas, Beverly Hills, Chicago, Palm Beach, London, Paris, Geneva, Amsterdam, Brussels and Hong Kong.
Heritage also enjoys the highest Online traffic and dollar volume of any auction house on earth (source: SimilarWeb and Hiscox Report). The Internet's most popular auction-house website, HA.com, has more than 1,600,000 registered bidder-members and searchable free archives of more than 6,000,000 past auction records with prices realized, descriptions and enlargeable photos. Reproduction rights routinely granted to media for photo credit.