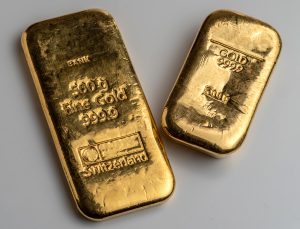 Gold, platinum and palladium declined on Friday, trimming their weekly gains, while silver scored a seven-week settlement high.
Ending lower for the first time in four sessions, gold for April delivery fell $12.10, or 0.6%, to finish at $1,983.80 an ounce on the Comex division of the New York Mercantile Exchange.
Gold prices climbed 0.5% on the week. Further, the yellow metal has advanced a combined $166.70, or 9.2%, through its four consecutive weekly gains. On Thursday, gold posted its highest settlement since March 10, 2022. It is 8.6% higher on the year to date.
In looking ahead to next week, Kitco News offers the following forecasts via their Wall Street & Main Street surveys:
"This week, 20 Wall Street analysts participated in the Kitco News Gold Survey. Among the participants, 13 analysts, or 65%, were bullish on gold in the near term. At the same time, five analysts, or 25%, were bearish for next week, and two analysts, or 10%, saw prices trading sideways.

Meanwhile, 896 votes were cast in online polls. Of these, 639 respondents, or 71%, looked for gold to rise next week. Another 152, or 17%, said it would be lower, while 105 voters, or 12%, were neutral in the near term."
Elsewhere, silver for May delivery tacked on 8.3 cents, or 0.4%, to settle at $23.339 an ounce. For a third straight session, the settlement was the highest since Feb. 2. Silver prices notched a 3.9% weekly increase after soaring 9.5% last week. However, they are 2.9% lower on the year.
In PGM prices on Friday and for the week:
April platinum shed $9, or 0.9%, to end at $983.90 an ounce, but edged 0.5% higher on the week.

Palladium for June delivery lost $18.40, or 1.3%, to end at $1,414.40 an ounce, slimming its weekly gain to 2%.
The pair remain lower on the year so far with losses of 9.1% for platinum and 21.3% for palladium.
US Mint Bullion Sales in 2023
This week, U.S. Mint bullion sales soared, for platinum, gold and silver coins. In week-over-week comparisons:
American Platinum Eagles: 7,500 ounces, for their first weekly total this year,
American Gold Eagles: 107,500 ounces against 41,500 ounces,
American Gold Buffalos: 38,500 ounces compared to 14,500 ounces, and
American Silver Eagles: 450,000 ounces against 0 ounces.
Below is a sales breakdown of U.S. Mint bullion products with columns listing the number of coins sold during varying periods.
US Mint Bullion Sales (# of coins)
Friday
Last Week
This Week
January Sales
February
March
2023 Sales
$50 American Eagle 1 Oz Gold Coin
15,500
39,500
107,500
118,000
41,500
157,500
317,000
$25 American Eagle 1/2 Oz Gold Coin
0
0
0
37,000
8,000
1,000
46,000
$10 American Eagle 1/4 Oz Gold Coin
0
8,000
0
62,000
12,000
10,000
84,000
$5 American Eagle 1/10 Oz Gold Coin
0
0
0
115,000
85,000
10,000
210,000
$50 American Buffalo 1 Oz Gold Coin
7,500
14,500
38,500
59,000
19,500
57,500
136,000
$1 American Eagle 1 Oz Silver Coin
0
0
450,000
3,949,000
900,000
900,000
5,749,000
$100 American Eagle 1 Oz Platinum Coin
0
N/A
7,500
N/A
N/A
7,500
7,500