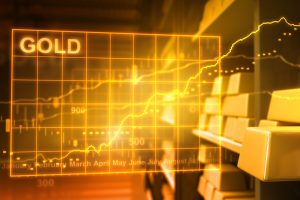 Precious metals advanced on Friday, cementing their first weekly gains in four weeks. While increases for gold were modest, they were robust for silver, platinum and palladium.
On Friday, gold for December delivery rose $8.40, or 0.5%, to settle at $1,728.60 an ounce on the Comex division of the New York Mercantile Exchange. The finish was the best since Aug. 30.
Gold prices edged 0.4% higher this week following three weekly losses that had dropped prices by a combined $92.90, or 5.1%. They are 5.5% lower on the year to date.
In looking ahead to next week, Kitco News offers the following forecasts via their Wall Street & Main Street surveys:
"This week, a total of 16 market professionals took part in Kitco News' Wall Street survey. Nine analysts, or 56%, said they were bullish on gold next week. Two analysts, or 13%, said they were bearish. Five analysts, or 31%, said they were neutral on the precious metal.

On the retail side, 495 respondents took part in online polls. A total of 255 voters, or 52%, called for gold to rise. Another 153, or 31%, predicted gold would fall. While the remaining 87 voters, or 18%, called for a sideways market."
Up for a fifth straight session, silver for December delivery tacked on 32.5 cents, or 1.8%, to close at $18.767 an ounce. The settlement was the highest since Aug. 25.
Silver prices surged 5% this week after three weekly losses brought them down by a combined $2.82, or 13.6%. They are 19.6% lower on the year.
In PGM futures on Friday and for the week:
Also rising for a fifth session in a row, October platinum added $10.50, or 1.2%, to end at $876.90 an ounce, for a 7.2% weekly gain. The close was the strongest since Aug. 19. The prior three weekly declines had pulled platinum prices down by a combined $141.10, or 14.7%.

Higher for a third straight day, palladium for December delivery added $30.60, or 1.4%, to end at $2,177.60 an ounce, for an increase on the week of 7.5%. The finish was the strongest since Aug. 12. The three previous weekly losses brought palladium prices down by a combined $193.30, or 8.7%.
Both metals remained divided on the year so far with platinum down 9.2% and palladium up 13.9%.
US Mint Bullion Sales in 2022
Published United States Mint bullion sales were unchanged on Friday. Below is a sales breakdown of U.S. Mint bullion products with columns listing the number of coins sold during varying periods.
US Mint Bullion Sales (# of coins)
Friday
May
June
July
August*
September
2022 Sales
$50 American Eagle 1 Oz Gold Coin
0
164,500
31,000
59,500
47,500
20,000
753,000
$25 American Eagle 1/2 Oz Gold Coin
0
7,000
6,000
5,000
2,000
0
73,000
$10 American Eagle 1/4 Oz Gold Coin
0
8,000
18,000
2,000
4,000
4,000
138,000
$5 American Eagle 1/10 Oz Gold Coin
0
50,000
135,000
20,000
20,000
5,000
550,000
$50 American Buffalo 1 Oz Gold Coin
0
56,000
21,500
39,500
22,500
11,500
333,000
$1 American Eagle 1 Oz Silver Coin
0
1,350,000
925,000
850,000
850,000
425,000
12,831,500
$100 American Eagle 1 Oz Platinum Coin
0
0
23,500
15,500
1,000
0
80,000
*On Thursday, the U.S. Mint adjusted August sales with American Gold Eagle increases for the:
1-oz to 47,500 coins from 43,500 coins,
1/2-oz to 2,000 coins from 1,000 coins,
1/4-oz to 4,000 coins from 2,000 coins, and
1/10-oz to 20,000 coins from 15,000 coins.
On Tuesday, the Mint adjusted the August total for the American Gold Buffalo, lifting its sales to 22,500 coins from 17,500 coins.