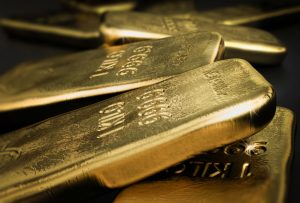 Palladium declined Friday as gold, silver and platinum gained. All the metals posted robust weekly increases, however. In milestones, platinum ended the day at another two-month high while gold closed at a more than six-week high. The pair have advanced for four straight weeks.
Closing higher for the fifth time in six sessions, gold for December delivery rose $8.30, or 0.5%, to settle at $1,815.50 an ounce on the Comex division of the New York Mercantile Exchange. The settlement was the best since Jun 29.
"Currently the gold market is seeing some short-covering and is supported by lower yields," Reuters quoted Bart Melek, head of commodity strategy at TD Securities.
Gold prices tacked on 1.9% this week, lifting their combined four-weekly win total to $111.90, or 6.6%. Before then, the yellow metal had dropped for five straight weeks for a combined loss of $171.90, or 9.2%. Gold prices are now a smidgen, 0.7%, lower on the year to date.
In looking ahead to next week, Kitco News offers the following forecasts via their Wall Street & Main Street surveys:
"Kitco's weekly gold survey results revealed that Wall Street is now evenly split regarding which direction gold prices will go next week. Out of 11 analysts participating in the survey, only 9% were neutral, 45.5% projected higher prices, and the other 45.5% called for gold to head lower.

The Main Street side remained bullish for next week. Out of 216 retail participants, 42.1% expected higher prices, 28.7% called for a move lower, and 29.2% remained neutral, Kitco's survey showed."
Elsewhere, silver for September delivery advanced 34.9 cents, or 1.7%, to close at $20.698 an ounce. Silver prices drove 2.5% higher this week after falling 1.8% last week. They are down 11.4% on the year. On Wednesday at $20.742 an ounce, silver finished at its best price since June 29.
In PGM futures on Friday and for the week:
October platinum was unchanged at $959.40 an ounce — the best close since June 11. It scored a 7.8% weekly gain. Platinum's four weeks of increases total $128.50, or 15.5%.

Palladium for September delivery fell $69, or 3%, to end at $2,219.40 an ounce, but settled 4.2% higher on the week. On Thursday, palladium closed at its strongest price since April 29.
Both remained divided on the year so far with platinum 0.7% lower and palladium 16.1% higher.
US Mint Bullion Sales in 2022
Published United States Mint bullion sales were unchanged for a fourth day in a row on Friday after showing gains on Monday for the first time this month.
Below is a sales breakdown of U.S. Mint bullion products with columns listing the number of coins sold during varying periods.
US Mint Bullion Sales (# of coins)
Friday
May
June
July
This Week / August
2022 Sales
$50 American Eagle 1 Oz Gold Coin
0
164,500
31,000
59,500
21,000
706,500
$25 American Eagle 1/2 Oz Gold Coin
0
7,000
6,000
5,000
1,000
72,000
$10 American Eagle 1/4 Oz Gold Coin
0
8,000
18,000
2,000
2,000
132,000
$5 American Eagle 1/10 Oz Gold Coin
0
50,000
135,000
20,000
15,000
540,000
$50 American Buffalo 1 Oz Gold Coin
0
56,000
21,500
39,500
6,500
305,500
$1 American Eagle 1 Oz Silver Coin
0
1,350,000
925,000
850,000
408,000
11,964,500
$100 American Eagle 1 Oz Platinum Coin
0
0
23,500
15,500
1,000
80,000