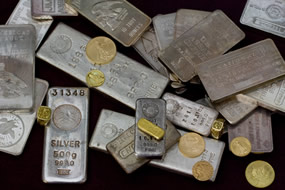 Gold and silver futures logged their fifth set of gains in six sessions Friday, cementing their third straight weekly increases and marking fresh settlement highs extending from about twenty weeks for silver to a year for gold.
Gold for December delivery edged up 90 cents, or less than 0.1%, to close at $1,351.20 an ounce on the Comex division of the New York Mercantile Exchange. The settlement is the highest since Sept. 6, 2016 when prices ended at $1,354 an ounce.
"Gold is likely to hold its gains and could move substantially higher if the outlook for the equity market darkens," MarketWatch quoted Michael Armbruster, managing partner at brokerage firm Altavest.
Gold futures advanced 1.6% this week, padding two previous weekly increases of 2.5% and 0.5%. The yellow metal is 17.3% higher on the year to date.
In looking ahead to next week, Kitco News offers the following forecasts via their Wall Street vs. Main Street survey:
"Sixteen market professionals took part in a Kitco News Wall Street survey. Ten voters, or 63%, see gold prices rising by the end of next week. Four, or 25%, call for lower prices, while two, or 13%, see gold trading sideways.

The Kitco online Main Street poll resulted in 869 votes, with 506 participants, or 58%, calling for gold to climb over the next week. Another 277 voters, or 32%, said that gold will fall, while 86, or 10%, were neutral."
Silver for December delivery inched up less than a cent to finish at $18.123 an ounce. Still, the settlement is the highest since April 19 when prices ended at $18.162 an ounce. The precious metal climbed 1.7% this week following last week's 4.5% rally and the weekly increase before then of 0.3%. Silver futures are ahead 13.4% so far this year.
In PGM futures on Friday and for the week:
October platinum lost $4.50, or 0.4%, to $1,012.30 an ounce, but logged a 0.3% weekly gain.

Palladium for December delivery fell $17.60, or 1.9%, to $931.25 an ounce, for a 4.7% decline on the week. Last Friday, they ended at $977.10 an ounce for their strongest close since February 2001.
The two metals are higher on the year to date with increases of 11.8% for platinum and 36.3% for palladium.
London Precious Metals Prices
London precious metals prices ended higher on Friday and mixed on the week. In comparing their levels from Thursday PM to Friday PM:
Gold added $2.75 or 0.2%, to 1,346.25 an ounce.
Silver jumped 42 cents, or 2.4%, to $18.21 an ounce.
Platinum added $7, or 0.7%, to $1,014 an ounce.
Palladium rose $3, or 0.3%, to $945 an ounce.
For the week, palladium fell 3.2% while other London bullion prices registered gains of 2% for gold, 4.1% for silver, and 1.5% for platinum.
US Mint Bullion Sales in 2017
United States Mint bullion sales moved modestly higher for gold coins but slowed sharply for silver coins. In the latest week-over-week comparisons:
Gold coins advanced by 2,000 ounces compared to 1,000 ounces previously. This week, American Gold Eagles accounted for all gold sales. Last week, splits included 500 ounces in American Gold Eagles and 500 ounces in American Gold Buffalos.

Silver coins moved up by only 25,000 ounces compared to last week's haul of 800,000 ounces. American Silver Eagles also accounted for all of this week's silver sales. Last week, splits included 600,000 ounces in American Silver Eagles and 200,000 ounces in ATB 5-ounce silver bullion coins.
Below is a sales breakdown of U.S. bullion products with columns listing the number of coins sold during varying periods. Products with an asterisk (*) are no longer available.
US Mint Bullion Sales (# of coins)
Friday
Last Week
August
This Week / September
YTD
$100 American Eagle 1 Oz Platinum Coin
0
0
0
0
20,000
$50 American Eagle 1 Oz Gold Coin
0
500
6,500
2,000
164,000
$25 American Eagle 1/2 Oz Gold Coin
0
0
2,000
0
29,000
$10 American Eagle 1/4 Oz Gold Coin
0
0
2,000
0
54,000
$5 American Eagle 1/10 Oz Gold Coin
0
0
15,000
0
305,000
$50 American Buffalo 1 Oz Gold Coin
0
500
3,000
0
75,000
$1 American Eagle 1 Oz Silver Coin
0
600,000
1,025,000
25,000
15,603,500
2017 Effigy Mounds 5 Oz Silver Coin
0
0
0
0
35,000
2017 Frederick Douglass 5 Oz Silver Coin
0
0
0
0
20,000
2017 Ozark Riverways 5 Oz Silver Coin
0
0
0
0
20,000
2017 Ellis Island 5 Oz Silver Coin*
0
40,000
39,500
500
40,000