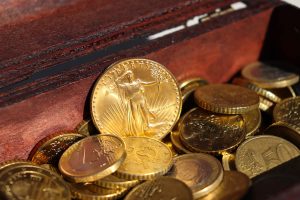 Precious metals fell on Friday, driving weekly losses higher for platinum and palladium while trimming gains on the week for gold and silver.
Gold for April delivery shed $8, or 0.4%, to settle at $1,954.20 an ounce on the Comex division of the New York Mercantile Exchange.
"The risk of the Russia-Ukraine war becoming [World War 3] is diminishing for the moment and the more immediate concern is the impact of more aggressive interest rates, especially on the economy," MarketWatch quoted Edmund Moy, former director of the United States Mint and senior IRA strategist for gold and silver dealer U.S. Money Reserve.
Gold prices rose 1.3% this week after falling 2.8% last week. On Thursday, they marked their highest settlement since March 11. The yellow metal is 6.9% higher on the year to date.
In looking ahead to next week, Kitco News offers the following forecasts via their Wall Street & Main Street surveys:
"This week, 17 Wall Street analysts participated in Kitco News' gold survey. Among the participants, 12 analysts, or 71%, called for gold prices to rise next week. At the same time, four analysts, or 24%, were bearish on gold in the near term, and one analyst, or 6%, was neutral on prices.

Meanwhile, 1,034 votes were cast in online Main Street polls. Of these, 743 respondents, or 72%, looked for gold to rise next week. Another 158, or 15%, said lower, while 133 voters, or 13%, were neutral in the near term."
Silver for May delivery lost 30.5 cents, or 1.2%, to close at $25.615 an ounce. Silver prices advanced 2.1% this week, for their seventh weekly gain in eight weeks. They sank 4.1% last week. Like for gold, on Thursday, silver finished at its best price since March 11. Before then, its six consecutive weekly gains had lifted prices by a combined $3.86 or 17.3%. The precious metal is 9.7% higher on the year.
In PGM futures on Friday and for the week:
April platinum fell $22.70, or 2.2%, to end at $1,008.50 an ounce, for a 2.7% weekly loss.

Palladium for June delivery tumbled $136.30, or 5.4%, to end at $2,394.30 an ounce, for a 4% weekly drop.
Despite their hefty weekly losses, both are well higher on the year so far with advances of 4.4% for platinum and 25.2% for palladium.
US Mint Bullion Sales in 2022
Published United States Mint bullion sales were unchanged last week. This week, the U.S. Mint reported gains totaling:
58,000 ounces in American Gold Eagles,
26,500 ounces in American Gold Buffalos,
480,500 ounces in American Silver Eagles climbed, and
3,000 ounces in American Platinum Eagles.
Below is a sales breakdown of U.S. Mint bullion products with columns listing the number of coins sold during varying periods.
US Mint Bullion Sales (# of coins)
Friday
Last Week
This Week
January
February
March
2022 Sales
$50 American Eagle 1 Oz Gold Coin
11,000
0
52,500
123,500
86,000
121,500
331,000
$25 American Eagle 1/2 Oz Gold Coin
0
0
3,000
45,000
0
4,000
49,000
$10 American Eagle 1/4 Oz Gold Coin
2,000
0
6,000
64,000
4,000
18,000
86,000
$5 American Eagle 1/10 Oz Gold Coin
5,000
0
25,000
195,000
25,000
70,000
290,000
$50 American Buffalo 1 Oz Gold Coin
6,000
0
26,500
61,500
28,500
53,500
143,500
$1 American Eagle 1 Oz Silver Coin
0
0
480,500
5,001,000
1,500,000
1,080,500
7,581,500
$100 American Eagle 1 Oz Platinum Coin
0
0
3,000
N/A
25,800
14,200
40,000
$25 American Eagle 1 Oz Palladium Coin
0
0
0
0
0
0
0
Tuskegee Airmen 5 oz Silver Coin
0
0
0
0
0
0
0