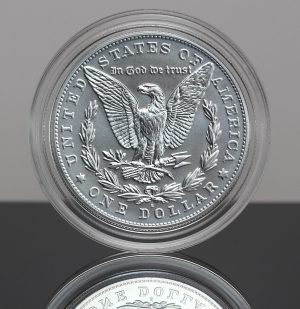 The U.S. Mint sold fewer numismatic products last week, which is highlighted by the lack of a single one advancing by at least 1,000 units — an enormous rarity.
Products showing sales reductions stand out as well, but not by much as none logged huge drops. Twenty-one products posted lower sales against 20 in previous sales report. The reductions ranged from 1 to 36. Several of the Mint's more popular 2021 products experienced declines, including all the 2021 Morgan and Peace dollars and many of the 2021 American Silver Eagles.
Weekly U.S. Mint Top Sellers
Here's the listing of the Mint's most popular numismatic products for the week ending Jan. 30:
2022-P Proof Negro Leagues Baseball Silver Dollar (+796 to 11,723)
2021 Proof Set (+717 to 484,365)
2022-S Proof Negro Leagues Baseball Half Dollar (+683 to 11,599)
2022 Negro Leagues Baseball Silver Dollar & Medal Set (+512 to 9,043)
2021 Mint Set (+492 to 197,184)
2021 Silver Proof Set (+476 to 276,440)
2022-P Uncirculated Negro Leagues Baseball Silver Dollar (+317 to 5,464)
2022-D Uncirculated Negro Leagues Baseball Half Dollar (+258 to 6,540)
2021 American Innovation Dollar Proof Set (+166 to 71,823)
George H.W. Bush Coin & Chronicles Set (+132 to 9,657)
In its latest report, the U.S. Mint published sales data for 328 numismatic products. Twenty-seven outperformed their prior weekly gains compared to 65 previously. None increased by more than 1,000 units against 1 in the prior report.
US Mint Sales: Numismatic Products
Below are tables showing the latest available sales for U.S. Mint numismatic products. The sales period covers from Jan. 24 to 30. Products with an asterisk (*) are no longer available or had no reported sales.
Morgan and Peace Silver Dollars

Old
Sales
Latest
Sales
Gain/
Loss
%
Increase
2021 Morgan Silver Dollar with CC Privy Mark*
173,478
173,462
-16
-0.01%
2021 Morgan Silver Dollar with O Privy Mark*
173,216
173,203
-13
-0.01%
2021-D Morgan Silver Dollar*
173,723
173,691
-32
-0.02%
2021-S Morgan Silver Dollar*
174,124
174,106
-18
-0.01%
2021 Morgan Silver Dollar (P)*
173,927
173,906
-21
-0.01%
2021 Peace Silver Dollar (P)*
198,794
198,771
-23
-0.01%

2022 Negro Leagues Baseball Commemorative Coins

Old
Sales
Latest
Sales
Gain/
Loss
%
Increase
2022-W Proof $5 Gold Coin
1,022
1,064
42
4.11%
2022-W Uncirculated $5 Gold Coin
822
854
32
3.89%
2022-P Proof Silver Dollar with Privy Mark
19,996
19,997
1
0.01%
2022-P Proof Silver Dollar
10,927
11,723
796
7.28%
2022-P Uncirculated Silver Dollar
5,147
5,464
317
6.16%
2022-S Proof Half Dollar
10,916
11,599
683
6.26%
2022-D Uncirculated Half Dollar
6,282
6,540
258
4.11%
2022 Three-Coin Proof Set
2,611
2,740
129
4.94%
2022 Silver Dollar & Medal Set
8,531
9,043
512
6.00%

2021 Christa McAuliffe Silver Dollars

Old
Sales
Latest
Sales
Gain/
Loss
%
Increase
2021-P Proof Silver Dollar*
54,225
54,225
–
–
2021-P Uncirculated Silver Dollar*
16,027
16,027
–
–

2021 National Law Enforcement Memorial and Museum Commemorative Coins

Old
Sales
Latest
Sales
Gain/
Loss
%
Increase
2021-W Proof $5 Gold Coin*
1,473
1,473
–
–
2021-W Uncirculated $5 Gold Coin*
1,753
1,753
–
–
2021-P Proof Silver Dollar*
29,705
29,704
-1
0.00%
2021-P Uncirculated Silver Dollar*
9,423
9,422
-1
-0.01%
2021-S Proof Half Dollar*
23,308
23,308
–
–
2021-D Uncirculated Half Dollar*
10,186
10,186
–
–
2021 Three-Coin Proof Set*
4,394
4,394
–
–

Armed Forces Silver Medal

Old
Sales
Latest
Sales
Gain/
Loss
%
Increase
U.S. Coast Guard 2.5 Ounce Silver Medal
9,850
9,850
–
–
U.S. Air Force 2.5 Ounce Silver Medal
9,902
9,902
–
–

American Liberty Products

Old
Sales
Latest
Sales
Gain/
Loss
%
Increase
2021-W $100 American Liberty Gold Coin
12,304
12,299
-5
-0.04%
2019-W $100 American Liberty Gold Coin
24,609
24,609
–
–
2019-P American Liberty Silver Medal
44,928
44,928
–
–
2018-W $10 American Liberty Gold Coin
46,108
46,187
79
0.17%
2017 American Liberty Silver Four-Medal Set*
32,647
32,647
–
–
2017-S Enhanced Uncirculated Coin Set*
210,419
210,419
–
–
2017-W $100 American Liberty Gold Coin
34,800
34,830
30
0.09%
2017-P Proof American Liberty Silver Medal*
55,187
55,187
–
–

Clad Proof Sets

Old
Sales
Latest
Sales
Gain/
Loss
%
Increase
2021 Proof Set
483,648
484,365
717
0.15%
2020 Proof Set*
465,080
465,080
–
–
2019 Proof Set*
600,423
600,423
–
–
2018 Proof Set*
517,081
517,081
–
–
2017 Proof Set*
568,678
568,678
–
–
2021 American Innovation Dollars Proof Set
71,657
71,823
166
0.23%
2020 American Innovation Dollars Proof Set
102,640
102,766
126
0.12%
2019 American Innovation Dollars Proof Set
138,556
138,667
111
0.08%
2020 America the Beautiful Quarters Proof Set
64,242
64,242
–
–
2019 America the Beautiful Quarters Proof Set
79,046
79,084
38
0.05%
2018 America the Beautiful Quarters Proof Set*
86,697
86,697
–
–
2021 Happy Birthday Gift Set*
16,984
16,984
–
–
2020 Happy Birthday Gift Set*
16,738
16,738
–
–
2019 Happy Birthday Gift Set*
19,097
19,097
–
–
2018 Happy Birthday Gift Set*
17,719
17,719
–
–
2021 Birth Gift Set*
29,791
29,791
–
–
2020 Birth Gift Set*
29,330
29,330
–
–
2019 Birth Gift Set*
29,530
29,530
–
–
2018 Birth Gift Set*
34,032
34,032
–
–

Silver Proof Sets

Old
Sales
Latest
Sales
Gain/
Loss
%
Increase
2021 Silver Proof Set
275,964
276,440
476
0.17%
2020 Silver Proof Set*
313,184
313,183
-1
0.00%
2019 Silver Proof Set*
412,508
412,508
–
–
2018 Silver Proof Set*
332,274
332,274
–
–
2018 Silver Reverse Proof Set*
199,116
199,116
–
–
2020 America the Beautiful Quarters Silver Proof Set*
64,012
64,012
–
–
2019 America the Beautiful Quarters Silver Proof Set*
78,585
78,585
–
–
2018 America the Beautiful Quarters Silver Proof Set*
79,301
79,301
–
–
2021 Congratulations Gift Set*
39,997
39,997
–
–
2020 Congratulations Gift Set*
24,443
24,443
–
–
2019 Congratulations Gift Set*
31,638
31,638
–
–
2021 Limited Edition Silver Proof Set
48,421
48,417
-4
-0.01%
2020 Limited Edition Silver Proof Set*
49,995
49,995
–
–
2019 Limited Edition Silver Proof Set*
47,404
47,404
–
–
2018 Limited Edition Silver Proof Set*
49,479
49,479
–
–

US Mint Uncirculated Sets

Old
Sales
Latest
Sales
Gain/
Loss
%
Increase
2021 Uncirculated Mint Set
196,692
197,184
492
0.25%
2020 Uncirculated Mint Set*
211,787
211,787
–
–
2019 Uncirculated Mint Set*
346,117
346,117
–
–
2018 Uncirculated Mint Set*
257,536
257,536
–
–
2017 Uncirculated Mint Set*
286,813
286,813
–
–

Kids Coin Sets

Old
Sales
Latest
Sales
Gain/
Loss
%
Increase
2019 Youth Coin and Currency Set
18,708
18,768
60
0.32%
2019 Explore and Discover Coin Set
38,618
38,633
15
0.04%
2019 Rocketship*
49,921
49,921
–
–
2014 Coin Discovery Set*
13,151
13,151
–
–

Ornaments

Old
Sales
Latest
Sales
Gain/
Loss
%
Increase
2021 Mighty Minters Ornament
4,829
4,827
-2
-0.04%
2021 U.S. Mint Ornament
7,047
7,072
25
0.35%
2020 Mighty Minters Ornament
4,152
4,152
–
–
2020 U.S. Mint Ornament
6,016
6,017
1
0.02%
2019 Mighty Minters Ornament
6,677
6,677
–
–
2019 U.S. Mint Ornament
11,131
11,133
2
0.02%

Proof & Reverse Proof Silver Eagles

Old
Sales
Latest
Sales
Gain/
Loss
%
Increase
2021 Reverse Proof American Silver Eagle Two-Coin Set*
123,994
123,976
-18
-0.01%
2021-S Proof Silver Eagle, Type 2*
198,109
198,073
-36
-0.02%
2021-S Proof Silver Eagle, Type 2 (Bulk – 40 Coins)*
645
645
–
–
2021-W Proof Silver Eagle, Type 2*
298,629
298,624
-5
0.00%
2021-W Proof Silver Eagle, Type 2 (Bulk – 40 Coins)*
2,142
2,142
–
–
2021-W Proof Silver Eagle, Type 1*
299,509
299,509
–
–
2021-W Proof Silver Eagle, Type 1 (Bulk – 40 Coins)*
686
686
–
–
2020-W End of WWII Proof Silver Eagle*
74,713
74,713
–
–
2020-W Proof Silver Eagle*
357,110
357,110
–
–
2020-W Proof Silver Eagle (Bulk – 40 Coins)*
600
600
–
–
2020-S Proof Silver Eagle*
191,259
191,259
–
–
2020-S Proof Silver Eagle (Bulk – 40 Coins)*
440
440
–
–
2019-S Enhanced Reverse Proof Proof Silver Eagle*
29,909
29,909
–
–
2019-S Proof Silver Eagle*
146,799
146,799
–
–
2019-S Proof Silver Eagle (Bulk – 40 Coins)*
137
137
–
–
2019 Pride of Nations Two-Coin Set*
99,675
99,675
–
–
2019-W Proof Silver Eagle*
345,380
345,380
–
–
2019-W Proof Silver Eagle (Bulk – 40 Coins)*
745
745
–
–

Uncirculated Silver Eagles

Old
Sales
Latest
Sales
Gain/
Loss
%
Increase
2021*
172,906
172,890
-16
-0.01%
2021 Bulk 40*
324
324
–
–
2020*
154,263
154,263
–
–
2020 Bulk 40*
15
15
–
–
2019*
138,390
138,390
–
–
2019 Bulk 40*
66
66
–
–

2021 Proof American Eagle Gold Coins

Old
Sales
Latest
Sales
Gain/
Loss
%
Increase
1/10 oz Two-Coin Proof Set*
4,974
4,974
–
–
1 oz (Type 2)*
5,552
5,552
–
–
1/2 oz (Type 2)*
1,985
1,985
–
–
1/4 oz (Type 2)*
3,333
3,333
–
–
1/10 oz (Type 2)
9,832
9,832
–
–
4-Coin Set (Type 2)*
10,188
10,183
-5
-0.05%
1 oz (Type 1)*
4,404
4,403
-1
-0.02%
1/2 oz (Type 1)*
1,586
1,586
–
–
1/4 oz (Type 1)*
2,682
2,682
–
–
1/10 oz (Type 1)*
7,949
7,949
–
–
4-Coin Set (Type 1)*
8,155
8,155
–
–

2020 Proof American Eagle Gold Coins

Old
Sales
Latest
Sales
Gain/
Loss
%
Increase
1 oz End of WWII*
1,939
1,939
–
–
1 oz*
5,784
5,784
–
–
1/2 oz*
2,446
2,446
–
–
1/4 oz*
4,232
4,232
–
–
1/10 oz*
12,459
12,459
–
–
4-Coin Set*
11,573
11,573
–
–

2019 Proof American Eagle Gold Coins

Old
Sales
Latest
Sales
Gain/
Loss
%
Increase
1 oz*
5,872
5,872
–
–
1/2 oz*
1,876
1,876
–
–
1/4 oz*
3,035
3,035
–
–
1/10 oz*
10,231
10,231
–
–
4-Coin Set
8,823
8,823
–
–

Uncirculated American Eagle Gold Coins

Old
Sales
Latest
Sales
Gain/
Loss
%
Increase
2021*
8,924
8,922
-2
-0.02%
2020*
6,284
6,284
–
–
2019*
5,851
5,851
–
–
2018*
8,518
8,518
–
–
2017*
5,800
5,800
–
–

Proof American Buffalo Gold Coins

Old
Sales
Latest
Sales
Gain/
Loss
%
Increase
2021 Proof Gold Buffalo
16,854
16,854
–
–
2020 Proof Gold Buffalo*
11,887
11,887
–
–
2019 Proof Gold Buffalo*
14,844
14,844
–
–
2018 Proof Gold Buffalo*
15,756
15,756
–
–
2017 Proof Gold Buffalo*
15,810
15,810
–
–

Proof American Platinum Eagle

Old
Sales
Latest
Sales
Gain/
Loss
%
Increase
2021
9,586
9,598
12
0.13%
2020
9,147
9,255
108
1.18%
2019
11,268
11,268
–
–
2018
15,059
15,064
5
0.03%
2017*
8,890
8,890
–
–

American Palladium Eagle

Old
Sales
Latest
Sales
Gain/
Loss
%
Increase
2021-W Proof
4,858
4,907
49
1.01%
2020-W Uncirculated
9,604
9,609
5
0.05%
2019-W Reverse Proof
18,686
18,706
20
0.11%
2018-W Proof*
14,986
14,986
–
–

First Spouse Gold Coins

Old
Sales
Latest
Sales
Gain/
Loss
%
Increase
2020-W Proof Barbara Bush First Spouse Gold Coin*
2,896
2,896
–
–
2020-W Uncirculated Barbara Bush First Spouse Gold Coin
1,852
1,862
10
0.54%

America the Beautiful 5 Oz Silver Coins

Old
Sales
Latest
Sales
Gain/
Loss
%
Increase
2021-P Tuskegee Airmen Silver Uncirculated Coin
19,815
19,815
–
–
2020-P Tallgrass Prairie Silver Uncirculated Coin*
13,613
13,613
–
–
2020-P Marsh-Billings-Rockefeller Silver Uncirculated Coin
13,545
13,545
–
–
2020-P Salt River Bay Silver Uncirculated Coin*
13,566
13,566
–
–
2020-P Weir Farm Silver Uncirculated Coin*
15,326
15,326
–
–
2020-P National Park of American Samoa Silver Uncirculated Coin*
15,781
15,781
–
–
2019-P River of No Return Silver Uncirculated Coin*
16,310
16,310
–
–
2019-P San Antonio Missions Silver Uncirculated Coin*
16,211
16,211
–
–
2019-P War In The Pacific Silver Uncirculated Coin*
16,277
16,277
–
–
2019-P American Memorial Park Silver Uncirculated Coin*
16,287
16,287
–
–
2019-P Lowell Five Ounce Silver Uncirculated Coin*
16,644
16,644
–
–
2018-P Block Island Silver Coins*
15,913
15,913
–
–
2018-P Cumberland Island Silver Coins*
16,377
16,377
–
–
2018-P Voyageurs Silver Coins*
16,839
16,839
–
–
2018-P Apostle Islands Silver Coins*
16,802
16,802
–
–
2018-P Pictured Rocks Silver Coins*
17,773
17,773
–
–
2017-P George Rogers Clark Silver Coins*
14,731
14,731
–
–
2017-P Ellis Island Silver Coins*
17,670
17,670
–
–
2017-P Ozark Riverways Silver Coins
17,694
17,694
–
–
2017-P Frederick Douglass Silver Coins*
17,678
17,678
–
–
2017-P Effigy Mounds Silver Coins*
17,251
17,251
–
–

Presidential Silver Medals

Old
Sales
Latest
Sales
Gain/
Loss
%
Increase
2021 John Tyler Presidential Silver Medal
12,304
12,329
25
0.20%
2021 William Henry Harrison Presidential Silver Medal
12,385
12,395
10
0.08%
2021 Martin Van Buren Presidential Silver Medal
12,590
12,598
8
0.06%
2020 Andrew Jackson Presidential Silver Medal
15,124
15,133
9
0.06%
2019 John Quincy Adams Presidential Silver Medal
13,645
13,657
12
0.09%
2019 James Monroe Presidential Silver Medal
14,178
14,190
12
0.08%
2019 James Madison Presidential Silver Medal
15,329
15,348
19
0.12%
2019 Thomas Jefferson Presidential Silver Medal
21,473
21,503
30
0.14%
2018 George Washington Presidential Silver Medal
30,856
30,969
113
0.37%
2018 John Adams Presidential Silver Medal
21,912
21,930
18
0.08%

American Innovation Reverse Proof Sets

Old
Sales
Latest
Sales
Gain/
Loss
%
Increase
2021
46,257
46,326
69
0.15%

2021 American Innovation Dollars – North Carolina

Old
Sales
Latest
Sales
Gain/
Loss
%
Increase
25-coin roll set (P)
6,729
6,740
11
0.16%
25-coin roll set (D)
6,368
6,379
11
0.17%
100-coin bag (P)
2,585
2,602
17
0.66%
100-coin bag (D)
2,493
2,507
14
0.56%

2021 American Innovation Dollars – New York

Old
Sales
Latest
Sales
Gain/
Loss
%
Increase
25-coin roll set (P)
6,986
6,986
–
–
25-coin roll set (D)
6,979
6,979
–
–
100-coin bag (P)
2,768
2,768
–
–
100-coin bag (D)
2,765
2,765
–
–

2021 American Innovation Dollars – Virginia

Old
Sales
Latest
Sales
Gain/
Loss
%
Increase
25-coin roll set (P)
6,983
6,983
–
–
25-coin roll set (D)
6,536
6,543
7
0.11%
100-coin bag (P)
2,567
2,577
10
0.39%
100-coin bag (D)
2,666
2,678
12
0.45%

2021 American Innovation Dollars – New Hampshire

Old
Sales
Latest
Sales
Gain/
Loss
%
Increase
25-coin roll set (P)
6,997
6,997
–
–
25-coin roll set (D)
7,004
7,004
–
–
100-coin bag (P)
2,789
2,789
–
–
100-coin bag (D)
2,787
2,787
–
–

2020 American Innovation Dollars – South Carolina

Old
Sales
Latest
Sales
Gain/
Loss
%
Increase
Reverse Proof (S)
37,036
37,068
32
0.09%
25-coin roll set (P)
6,378
6,378
–
–
25-coin roll set (D)
6,399
6,399
–
–
100-coin bag (P)
2,734
2,734
–
–
100-coin bag (D)
2,378
2,378
–
–

2020 American Innovation Dollars – Maryland

Old
Sales
Latest
Sales
Gain/
Loss
%
Increase
Reverse Proof (S)
44,687
44,795
108
0.24%
25-coin roll set (P)
6,493
6,493
–
–
25-coin roll set (D)
6,471
6,471
–
–
100-coin bag (P)
2,725
2,725
–
–
100-coin bag (D)
2,737
2,737
–
–

2020 American Innovation Dollars – Massachusetts

Old
Sales
Latest
Sales
Gain/
Loss
%
Increase
Reverse Proof (S)
43,563
43,608
45
0.10%
25-coin roll set (P)
6,486
6,486
–
–
25-coin roll set (D)
6,481
6,481
–
–
100-coin bag (P)
2,746
2,746
–
–
100-coin bag (D)
2,744
2,744
–
–

2020 American Innovation Dollars – Connecticut

Old
Sales
Latest
Sales
Gain/
Loss
%
Increase
Reverse Proof (S)
43,863
43,871
8
0.02%
25-coin roll set (P)
6,496
6,496
–
–
25-coin roll set (D)
6,425
6,425
–
–
100-coin bag (P)
2,736
2,736
–
–
100-coin bag (D)
2,747
2,747
–
–

2019 American Innovation Dollars – Georgia

Old
Sales
Latest
Sales
Gain/
Loss
%
Increase
Reverse Proof (S)
43,650
43,667
17
0.04%
25-coin roll set (P)
7,101
7,105
4
0.06%
25-coin roll set (D)
6,672
6,673
1
0.01%
100-coin bag (P)
2,992
2,995
3
0.10%
100-coin bag (D)
2,906
2,909
3
0.10%

2019 American Innovation Dollars – New Jersey

Old
Sales
Latest
Sales
Gain/
Loss
%
Increase
Reverse Proof (S)
46,989
46,997
8
0.02%
25-coin roll set (P)
7,742
7,745
3
0.04%
25-coin roll set (D)
7,020
7,021
1
0.01%
100-coin bag (P)
3,315
3,317
2
0.06%
100-coin bag (D)
3,035
3,039
4
0.13%

2019 American Innovation Dollars – Pennsylvania

Old
Sales
Latest
Sales
Gain/
Loss
%
Increase
Reverse Proof (S)
51,093
51,111
18
0.04%
25-coin roll set (P)
8,728
8,737
9
0.10%
25-coin roll set (D)
7,465
7,471
6
0.08%
100-coin bag (P)
2,774
2,778
4
0.14%
100-coin bag (D)
2,599
2,602
3
0.12%

2019 American Innovation Dollars – Delaware

Old
Sales
Latest
Sales
Gain/
Loss
%
Increase
Reverse Proof (S)
66,722
66,744
22
0.03%
25-coin roll set (P)
8,115
8,119
4
0.05%
25-coin roll set (D)
7,543
7,545
2
0.03%
100-coin bag (P)
2,723
2,726
3
0.11%
100-coin bag (D)
2,933
2,936
3
0.10%

2018 American Innovation Dollars

Old
Sales
Latest
Sales
Gain/
Loss
%
Increase
Reverse Proof (S)*
74,720
74,720
–
–
Proof Coin (S)
244,370
244,470
100
0.04%
25-coin roll set (P)
20,164
20,184
20
0.10%
25-coin roll set (D)
23,368
23,380
12
0.05%
100-coin bag (P)*
2,935
2,935
–
–
100-coin bag (D)*
2,954
2,954
–
–

George H.W. Bush Coin & Chronicles Set

Old
Sales
Latest
Sales
Gain/
Loss
%
Increase
$1 Coin & Set
9,525
9,657
132
1.39%

2020 Bush Presidential $1 Coin & First Spouse Medal Set

Old
Sales
Latest
Sales
Gain/
Loss
%
Increase
$1 Coin & Set
9,876
9,876
–
–

2020 George H.W. Bush Presidential $1 Coins

Old
Sales
Latest
Sales
Gain/
Loss
%
Increase
25-coin roll (P)
20,709
20,775
66
0.32%
25-coin roll (D)
17,960
18,028
68
0.38%
100-coin bag (P)
2,695
2,695
–
–
100-coin bag (D)
2,098
2,098
–
–
250-coin bag (P)
1,901
1,914
13
0.68%
250-coin bag (D)
3,463
3,475
12
0.35%

Native American Dollar Rolls

Old
Sales
Latest
Sales
Gain/
Loss
%
Increase
2021-P Native American $1 25 Coin Roll
15,047
15,109
62
0.41%
2021-D Native American $1 25 Coin Roll
14,522
14,591
69
0.48%
2021-P Native American $1 100-Coin Bag
1,704
1,704
–
–
2021-D Native American $1 100-Coin Bag
1,618
1,618
–
–
2021-P Native American $1 250-Coin Box
1,368
1,373
5
0.37%
2021-D Native American $1 250-Coin Box
1,745
1,750
5
0.29%
2020-dated 25-coin roll set (P)
16,971
17,013
42
0.25%
2020-dated 25-coin roll set (D)
16,030
16,030
–
–
2020-dated 100-coin bag (P)
1,960
1,960
–
–
2020-dated 100-coin bag (D)
1,981
1,981
–
–
2020-dated 250-coin box (P)
1,888
1,888
–
–
2020-dated 250-coin box (D)
1,956
1,956
–
–
2019-dated 25-coin roll set (P)*
17,776
17,776
–
–
2019-dated 25-coin roll set (D)*
17,075
17,075
–
–
2019-dated 100-coin bag (P)*
1,829
1,829
–
–
2019-dated 100-coin bag (D)*
1,766
1,766
–
–
2019-dated 250-coin box (P)*
1,734
1,734
–
–
2019-dated 250-coin box (D)*
1,949
1,949
–
–

Kennedy Half Dollar Rolls

Old
Sales
Latest
Sales
Gain/
Loss
%
Increase
2021-dated 200-coin bag (P&D)
9,969
9,968
-1
-0.01%
2021-dated 2-roll set (P&D)
21,953
21,953
–
–
2020-dated 200-coin bag (P&D)
11,776
11,776
–
–
2020-dated 2-roll set (P&D)
24,312
24,312
–
–
2019-dated 200-coin bag (P&D)*
11,534
11,534
–
–
2019-dated 2-roll set (P&D)*
24,132
24,132
–
–

America the Beautiful Quarters Uncirculated Coin Set

Old
Sales
Latest
Sales
Gain/
Loss
%
Increase
2020 Issue*
24,791
24,791
–
–
2019 Issue*
32,252
32,252
–
–
2018 Issue*
32,648
32,648
–
–
2017 Issue*
29,972
29,972
–
–

America the Beautiful Quarters Circulating Coin Set

Old
Sales
Latest
Sales
Gain/
Loss
%
Increase
2020 Issue*
24,849
24,849
–
–
2019 Issue*
22,819
22,819
–
–
2018 Issue*
22,641
22,641
–
–
2017 Issue*
24,765
24,765
–
–
2016 Issue*
23,958
23,958
–
–

America the Beautiful Quarters Three-Coin Sets

Old
Sales
Latest
Sales
Gain/
Loss
%
Increase
Tuskegee Airmen*
15,471
15,471
–
–
Tallgrass Prairie *
15,392
15,392
–
–
Marsh-Billings-Rockefeller
15,349
15,349
–
–
Salt River Bay
15,374
15,387
13
0.08%
Weir Farm
15,410
15,409
-1
-0.01%
National Park of American Samoa
15,385
15,385
–
–
River of No Return
14,550
14,569
19
0.13%
San Antonio Missions*
15,394
15,394
–
–
War in Pacific*
15,419
15,419
–
–
American Memorial Park
15,415
15,415
–
–
Lowell*
15,423
15,423
–
–
Block Island
15,025
15,040
15
0.10%
Cumberland Island
15,085
15,102
17
0.11%
Voyageurs*
15,266
15,266
–
–
Apostle Islands*
15,241
15,241
–
–
Pictured Rocks*
15,397
15,397
–
–
George Rogers Clark*
14,133
14,133
–
–
Ellis Island*
16,947
16,947
–
–
Ozark Riverways*
14,912
14,912
–
–
Frederick Douglass*
15,566
15,566
–
–
Effigy Mounds*
14,516
14,516
–
–
Fort Moultrie*
13,306
13,306
–
–
Theodore Roosevelt*
16,072
16,072
–
–
Harpers Ferry*
14,345
14,345
–
–
Cumberland Gap*
14,973
14,973
–
–
Shawnee*
15,474
15,474
–
–
Saratoga*
14,950
14,950
–
–
Bombay Hook*
13,400
13,400
–
–
Blue Ridge Parkway*
17,165
17,165
–
–
Kisatchie Set*
15,196
15,196
–
–
Homestead Set*
16,114
16,114
–
–
Everglades Set*
14,373
14,373
–
–
Great Sand Dunes Set*
14,119
14,119
–
–
Arches Three-Coin Set*
15,859
15,859
–
–
Shenandoah Three-Coin Set*
17,351
17,351
–
–
Great Smoky Mountains Set*
18,588
18,588
–
–
Mount Rushmore Quarters Set*
17,924
17,924
–
–
Fort McHenry Quarters Set*
16,345
16,345
–
–
Great Basin Quarters Set*
15,526
15,526
–
–
Perry's Victory Quarters Set*
17,643
17,643
–
–
White Mountain Quarters Set*
18,056
18,056
–
–
Denali Quarters Set*
18,193
18,193
–
–
Hawaii Volcanoes Quarters Set*
19,947
19,947
–
–
Acadia Quarters Set*
19,940
19,940
–
–
Chaco Culture Quarters Set*
20,028
20,028
–
–
El Yunque Quarters Set*
19,891
19,891
–
–
Chickasaw Quarters Set*
16,184
16,184
–
–
Vicksburg Quarters Set*
18,095
18,095
–
–
Olympic Quarters Set*
17,718
17,718
–
–
Glacier Quarters Set*
19,046
19,046
–
–
Gettysburg Quarters Set*
22,869
22,869
–
–
Mount Hood Quarters Set*
18,384
18,384
–
–
Grand Canyon Quarters Set*
22,133
22,133
–
–
Yosemite Quarters Set*
22,154
22,154
–
–
Yellowstone Quarters Set*
25,048
25,048
–
–
Hot Springs Quarters Set*
23,203
23,203
–
–

2021 Tuskegee Airmen Quarters

Old
Sales
Latest
Sales
Gain/
Loss
%
Increase
100-Coin Bag (S)
4,031
4,031
–
–
40-Coin Roll (S)
3,358
3,358
–
–
Three-Roll Set
7,642
7,642
–
–
100-Coin Bag (P)
2,367
2,367
–
–
100-Coin Bag (D)
2,380
2,380
–
–
Two-Roll Set
5,375
5,375
–
–

2020 Tallgrass Prairie Quarters

Old
Sales
Latest
Sales
Gain/
Loss
%
Increase
100-Coin Bag (S)
4,193
4,193
–
–
40-Coin Roll (S)
3,953
3,953
–
–
Three-Roll Set
8,841
8,841
–
–
100-Coin Bag (P)
2,499
2,499
–
–
100-Coin Bag (D)
2,478
2,478
–
–
Two-Roll Set
6,528
6,543
15
0.23%

2020 Marsh-Billings-Rockefeller Quarters

Old
Sales
Latest
Sales
Gain/
Loss
%
Increase
100-Coin Bag (S)
4,183
4,183
–
–
40-Coin Roll (S)
3,932
3,932
–
–
Three-Roll Set
8,834
8,834
–
–
100-Coin Bag (P)
2,415
2,415
–
–
100-Coin Bag (D)
2,331
2,331
–
–
Two-Roll Set
5,896
5,919
23
0.39%

2020 Salt River Bay Quarters

Old
Sales
Latest
Sales
Gain/
Loss
%
Increase
100-Coin Bag (S)
4,156
4,156
–
–
40-Coin Roll (S)
4,005
4,005
–
–
Three-Roll Set
8,879
8,879
–
–
100-Coin Bag (P)
2,488
2,488
–
–
100-Coin Bag (D)
2,422
2,422
–
–
Two-Roll Set
6,154
6,168
14
0.23%

2020 Weir Farm Quarters

Old
Sales
Latest
Sales
Gain/
Loss
%
Increase
100-Coin Bag (S)
4,281
4,281
–
–
40-Coin Roll (S)
4,013
4,013
–
–
Three-Roll Set
8,930
8,930
–
–
100-Coin Bag (P)
2,471
2,471
–
–
100-Coin Bag (D)
2,470
2,470
–
–
Two-Roll Set
6,895
6,895
–
–

2020 National Park of American Samoa Quarters

Old
Sales
Latest
Sales
Gain/
Loss
%
Increase
100-Coin Bag (S)
4,236
4,236
–
–
40-Coin Roll (S)
3,974
3,974
–
–
Three-Roll Set
8,930
8,930
–
–
100-Coin Bag (P)
2,456
2,456
–
–
100-Coin Bag (D)
2,480
2,480
–
–
Two-Roll Set
6,991
6,991
–
–