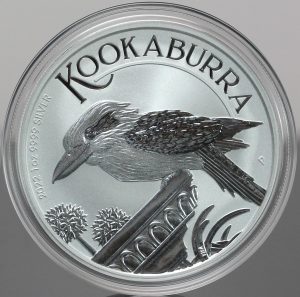 Sales of Australian bullion surged in November for both gold and silver, figures from The Perth Mint of Australia show. Demand was particularly strong for the Mint's minted gold products, with sales the highest since March.
Mint sales registered against divided precious metals with LBMA prices in November rising 2% for gold but dropping 4.8% for silver.
Bullion Sales in November 2021
Perth Mint November sales of gold coins and gold bars combined to 115,872 ounces, marking gains of 93.9% from October and 37.7% from November 2020.
"Two factors underscored rising gold coin sales. A general pick-up in the appetite for physical gold coincided with the release of The Perth Mint's 2022-dated Australian Kangaroo series. The response from our global distribution network was outstanding with demand particularly strong for 1oz, 1/2oz, 1/4oz and 1/10oz denominations," said General Manager Minted Products, Neil Vance
Year-to-date gold sales at 994,651 ounces are 41.7% higher than the 701,991 ounces sold during the same time last year.
Perth Mint November sales of silver coins and silver bars totaled 1,530,598 ounces, registering gains of 13.2% from October and 36.8% from November 2020.
"It was another great month for silver with our factory producing as much as possible to meet demand," Vance added.
The Mint's silver sales for the year so far at 17,358,388 ounces are 11.9% higher than the 15,510,723 ounces sold during the same period last year.
Perth Mint Gold and Silver Sales by Month
Below is a monthly summary of Perth Mint bullion sales from November 2020 to November 2021. The figures show monthly ounces of gold and silver shipped as minted products by The Perth Mint to wholesale and retail customers worldwide. It excludes sales of cast bars and other Group activities including sales of allocated/unallocated precious metal for storage by the Depository.
Perth Mint Bullion Sales (in troy ounces)
Silver
Gold
November 2021
1,530,598
115,872
October 2021
1,352,275
59,750
September 2021
1,789,926
98,753
August 2021
1,467,229
53,976
July 2021
1,302,723
70,658
June 2021
1,823,029
72,910
May 2021
1,700,807
91,146
April 2021
1,798,210
101,379
March 2021*
1,600,000
130,000
February 2021
1,830,707
124,104
January 2021
1,162,884
76,103
December 2020
941,767
76,806
November 2020
1,119,296
84,158
*Perth Mint published approximated sales data for March. Specifically, the Mint stated that during March it shipped "more than 130,000 troy ounces of gold and almost 1.6 million troy ounces of silver."