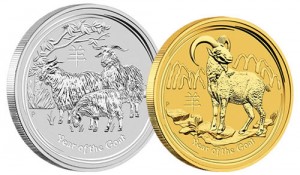 Demand was mixed last month for Australian bullion products with silver sales higher and gold sales lower, new figures from the Perth Mint of Australia show.
Bullion sales were registered in a backdrop of divided precious metals prices as London fixings in November marked gains for gold (+1.6%) and losses for silver (-1.4%).
Bullion Sales in November
November sales of Perth Mint gold coins and gold bars increased by 49,904 ounces, down 9.8% from the prior month of 55,350 ounces and off 5.3% from a year earlier when 52,700 ounces sold.
Perth Mint sales of silver coins reached 851,836 ounces last month, surging 29.9% over the 655,881 ounces sold in October and advancing 5.5% from sales of 807,246 ounces in November 2013. Last month's sales were supported by the release of 2015-dated Australian Koala Silver Bullion Coins as investors and collectors like to get the newest issues for a year as soon as possible.
Perth Mint Gold and Silver Sales by Month
Below is a monthly breakdown of Perth Mint bullion sales from November 2013 to November 2014.
Perth Mint Bullion Sales (in troy ounces)
Silver
Gold
November 2014
851,836
49,904
October 2014
655,881
55,350
September 2014
756,839
68,781
August 2014
818,856
36,369
July 2014
577,988
25,103
June 2014
586,358
39,405
May 2014
630,349
36,127
April 2014
361,988
23,461
March 2014
545,165
30,177
February 2014
392,088
47,003
January 2014
912,388
64,818
December 2013
845,941
58,944
November 2013
807,246
52,700
Year-to-date sales total 476,498 ounces in gold and 7,089,736 ounces in silver.
In related bullion news, the Perth Mint announced an official sell out of its one-ounce bullion coins from the 2015 Australian Lunar Gold and Silver Coin Series II.
"The full mintages of 30,000 gold bullion coins and 300,000 silver bullion coins celebrating the Year of the Goat have been manufactured and sold worldwide," the Mint noted.
U.S. Mint Bullion Sales in November
U.S. Mint coin sales slowed in November. Its flagship bullion product, the one-ounce American Silver Eagle, had handicapped sales since it temporarily sold out and was not available from Nov. 6 until Nov. 17. Silver Eagle sales then resumed under a rationing system. With that said, 3.426 million sold in November for a 40.8% decline from October but a 49% pick up from the same time last year. On Tuesday, the coins topped 42 million for the year and were 465,501 away from hitting a new annual sales record.
American Gold Eagle sales at 60,000 ounces dropped 11.1% from the previous month but surged 25% from November 2013.
American Buffalo gold coins at 12,500 ounces fell 40.5% from the prior month and declined 10.7% from a year earlier.
Finally, sales of 2014 America the Beautiful Five Ounce Silver Bullion Coins at 148,000 ounces were nearly six times higher than October and the most since November 2013.