The United States Mint unveiled last month the design for the 2022 Native American $1 Coin. The U.S. Mint's dollar series features annually changing reverses (tails side) that honor major contributions made by Indian tribes and individual Native Americans to the history and development of the United States.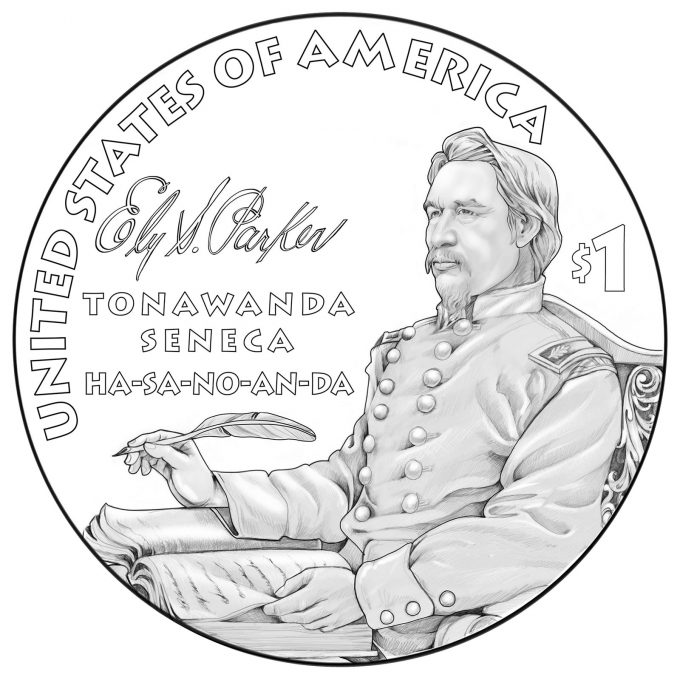 The design for 2022 depicts Ely S. Parker, a U.S. Army officer, engineer, and tribal diplomat, who served as military secretary to Ulysses S. Grant during the U.S. Civil War.
Selected from among 17 candidates and following some minor changes, the final design shows Parker in Army uniform with a quill pen and book. The pen and book, along with a likeness of Parker's signature, are symbols of his experience as an expert communicator, the U.S. Mint notes.
Reverse inscriptions include "$1," UNITED STATES OF AMERICAN," "TONAWANDA SENECA" and "HA-SA-NO-AN-DA" The last two recognize Parker's tribe and the name given to him at birth.
U.S. Mint Artistic Infusion Program Designer Paul C. Balan created the design while U.S. Mint Chief Engraver Joseph Menna completed its sculpting for coinage.
Obverses (heads side) of all Native American dollars are common, featuring a portrait of "Sacagawea" carrying her infant son, as designed by sculptor Glenna Goodacre. The familiar image has been around since the Sacagawea golden dollar debuted in 2000. Inscriptions around Sacagawea include "LIBERTY" and "IN GOD WE TRUST."
The year "2022", a mint mark, and "E PLURIBUS UNUM" will be incused on the edge of each dollar.
The U.S. Mint will begin selling rolls, bags, and boxes of the dollars on Feb. 9, 2022.