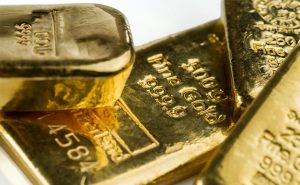 Precious metals declined on Friday, adding to their weekly losses and trimming a bit of their gains in the month of October.
Gold for December delivery dropped $18.70, or 1%, to settle at $1,783.90 an ounce on the Comex division of the New York Mercantile Exchange.
Gold futures traded 0.7% lower this week but gained 1.5% for the month. They are 5.9% lower on the year to date.
In looking ahead to next week, Kitco News offers the following forecasts via their Wall Street & Main Street surveys:
"Kitco's gold price survey results showed that out of 13 participating analysts on the Wall Street side, 53.8% were bearish on gold's price direction next week. Another 30.8% were neutral, and only 15.4% were bullish.

The Main Street side remained optimistic. Of the 745 participating retail investors, 60.5% were bullish on prices next week, 22.5% were bearish, and 17% neutral."
Elsewhere, silver for December delivery gave back 17.1 cents, or 0.7%, to settle at $23.949 an ounce. Silver futures traded 2.1% down on the week yet still posted an 8.6% gain for the month. They are 9.3% lower on the year.
In PGM futures on Friday, for the week and for October:
January platinum shed $3.20, or 0.3%, to end at $1,020.60 an ounce, registering a loss of 3% on the week but scoring a 6.1% increase for the month.

Palladium for December delivery declined $9.10, or 0.5%, to finish at $1,980.30 an ounce, for a 2.7% weekly loss, while advancing 4.2% in October.
Both metals are lower on the year so far with losses of 5.4% for platinum and 19.3% for palladium.
US Mint Bullion Sales in 2021
United States Mint October bullion sales divided in October compared to September with gold coins moving quicker and silver coins moving slower. Whether gold or silver, however, their year-to-date sales continued to track sharply higher than they did in 2020. In headline comparisons:
American Eagle gold coins increased in October by 149,500 ounces, registering gains of 99.3% from 75,000 ounces in September and 107.6% from 72,000 ounces in October 2020. For the year to date, sales of American Gold Eagles at 1,072,000 ounces are 51.1% higher than the 709,500 ounces sold during the first ten months of last year.

American Eagle silver coins advanced by 1,076,000 ounces, logging declines of 60.7% from 2,735,000 ounces in September and 68.3% from 3,397,000 ounces in October 2020. Sales of American Silver Eagles for the year at 26,751,500 coins are 9% higher than the 24,533,500 coins sold through the same time in 2020.

American Buffalo gold coins increased in October by 38,500 ounces, marking gains of 60.4% from 24,000 ounces in September and 97.4% from 19,500 ounces in October 2020. American Gold Buffalo sales for the year so far at 298,000 ounces are 43.3% higher than the 208,000 ounces delivered in the same period last year.
Below is a sales breakdown of U.S. Mint bullion products with columns listing the number of coins sold during varying periods.
US Mint Bullion Sales (# of coins)
Friday
Last Week
This Week
August
September
October
2021 Sales
$50 American Eagle 1 Oz Gold Coin
0
21,000
17,500
112,000
67,500
132,000
945,500
$25 American Eagle 1/2 Oz Gold Coin
0
3,000
4,000
21,000
4,000
7,000
88,000
$10 American Eagle 1/4 Oz Gold Coin
0
8,000
10,000
34,000
8,000
22,000
150,000
$5 American Eagle 1/10 Oz Gold Coin
0
30,000
30,000
50,000
35,000
85,000
450,000
$50 American Buffalo 1 Oz Gold Coin
0
4,000
2,000
27,500
24,000
38,500
298,000
$1 American Eagle 1 Oz Silver Coin
0
576,000
0
3,930,000
2,735,000
1,076,000
26,751,500
$100 American Eagle 1 Oz Platinum Coin
0
0
0
0
0
0
75,000
Tuskegee Airmen 5 oz Silver Coin
0
0
0
0
0
0
52,900