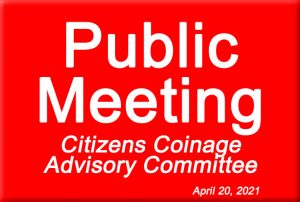 The Citizens Coinage Advisory Committee (CCAC) will hold a four-hour meeting by teleconference on Tuesday, April 20, to review and discuss the common obverse design for 2022-2025 American Women Quarters and reverse candidate designs for the first of the 2022 American Women Quarters.
The CCAC is tasked with advising the Secretary of the Treasury on themes and designs pertaining to all United States coins and medals.
Authorized under the Circulating Collectible Coin Redesign Act of 2020, Public Law No: 116-330, the upcoming U.S. Mint series of quarters will feature women who shaped American history.
Quarter obverses (heads side) will maintain a common likeness of George Washington but carry an overall design that will distinguish it from previous quarter programs.
The 20 American Women quarters will be issued at a rate of up to 5 designs per year over the four-year period.
Each quarter reverse (tails side) will feature a design that is emblematic of the accomplishments and contributions of one prominent woman of the United States.
"The contributions may come from a wide spectrum of accomplishments and fields, including but not limited to suffrage, civil rights, abolition, government, humanities, science, space, and arts," the U.S. Mint announced in seeking ideas for the quarters.
All of the women honored must be deceased.
CCAC Meeting Time and Public Listening Option
The CCAC meeting on the 20th will begin at 12:30 p.m. and it is scheduled to last until 4:30 p.m. (EDT).
Members of the public may dial in to listen to the meeting at (888) 330-1716 and using access code: 1137147.
For members of the public, this teleconference meeting is for "listen purposes only" — no comments or questions will be taken, and phones must be muted. Instead, those interested in offering matters for the CCAC's consideration are invited to submit them by email to info@ccac.gov.