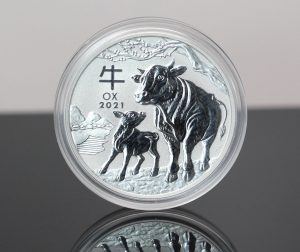 Australian bullion sales in September remained firm for gold products and soared for silver products, the latest figures from The Perth Mint show.
Its silver sales ranked fourth highest for a month since CoinNews started tracking the data in February 2013. The stronger sales were attributed, in part, to the release of lunar-themed bullion coins dated for 2021, the Mint noted.
"We established the Lunar coin series back in 1996 and it has consistently been one of our most successful annual releases among both investors and collectors," said Neil Vance, General Manager — Minted Products.

"We have an expansive network of international distributors for these coins who have ordered strongly again, especially in the United States and Germany where our brand is very well known."
The Mint's monthly bullion gains set against declining precious metals with LBMA prices in September dropping 3.6% for gold and 13.3% for silver.
Bullion Sales in September 2020
Perth Mint sales of gold coins and gold bars totaled 62,637 ounces last month, down 7.2% from August but 33.8% higher than in September 2019.
Year-to-date gold sales at 579,466 ounces are 158.9% higher than the 223,821 ounces sold last year through nine months.
The Mint's sales of silver coins and silver bars reached 1,677,383 ounces last month, marking gains of 17.2% from August and 24.3% from September of last year. The month's tally lags only behind:
March 2020 sales of 1,736,409,
March 2016 sales of 1,756,238 ounces, and
September 2015 sales of 3,349,557 ounces. 
Silver sales for the year so far at 13,162,714 ounces are 69% higher than the 7,789,569 sold through the same period in 2019.
Perth Mint Gold and Silver Sales by Month
Below is a monthly summary of Perth Mint bullion sales from September 2019 to September 2020. The figures show monthly ounces of gold and silver shipped as minted products by The Perth Mint to wholesale and retail customers worldwide. It excludes sales of cast bars and other Group activities including sales of allocated/unallocated precious metal for storage by the Depository.
Perth Mint Bullion Sales (in troy ounces)
Silver
Gold
September 2020
1,677,383
62,637
August 2020
1,431,036
67,462
July 2020
1,567,900
56,104
June 2020
1,573,752
44,371
May 2020
997,171
63,393
April 2020
2,123,121
120,504
March 2020
1,736,409
93,775
February 2020
605,634
22,921
January 2020
1,450,317
48,299
December 2019
1,361,723
78,912
November 2019
1,027,695
54,261
October 2019
1,394,615
32,469
September 2019
1,350,038
46,837