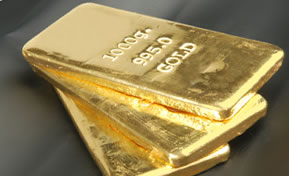 Precious metals finished sharply higher Friday, padding their weekly gains. Gold's weekly advance was its first in three weeks.
Gold for December delivery tacked on $42.30, or 2.2%, to settle at $1,974.90 an ounce on the Comex division of the New York Mercantile Exchange.
Gold futures traded 1.4% higher this week after losses of 0.1% last week and 3.9% for the week ended Aug. 14. They are 29.7% higher on the year to date. Earlier this month, on Aug. 6, gold registered a record settlement of $2,069.40 an ounce.
In looking ahead to next week, Kitco News offers the following forecasts via their Wall Street & Main Street surveys:
"This week, 15 Wall Street professionals took part in this week's poll. Among the participants, 12, or 80%, called for gold prices to rise; three analysts, or 20%, were neutral on the market and there were no bearish votes cast…

A total of 2,375 votes were cast in an online Main Street poll. Of these, 1356 respondents, or 57%, looked for gold to rise in the next week. Another 559, or 24%, said lower, while 460 voters, or 19%, were neutral."
Elsewhere, silver for September delivery soared 59.2 cents, or 2.2%, to close at $27.79 an ounce. Silver futures traded up 4% this week after rising 2.5% last week. They are 55.1% higher on the year.
In PGM futures on Friday and for the week:
October platinum settled up $11.90, or 1.3%, to $940 an ounce, for a 1.5% weekly gain.

Palladium for December delivery advanced $41, or 1.9%, to end at $2,231.50 an ounce, for a 2.4% weekly increase.
The two are divided on the year so far with platinum 3.9% lower and palladium 16.9% higher
London Precious Metals Prices (LBMA)
London precious metals prices ended mostly higher on Friday and for the week. In comparing their levels from Thursday PM to Friday PM:
Gold gained $33.50, or 1.7%, to $1,957.35 an ounce.
Silver added 10.5 cents, or 0.4%, to $27.35 an ounce.
Platinum was unchanged at $930 an ounce.
Palladium moved ahead $8, or 0.4%, to $2,176 an ounce.
In LBMA weekly results, prices for palladium declined 0.6% while they rose 1.7% for gold, 1.9% for silver, and 3.3% for platinum.
US Mint Bullion Sales in 2020
United States Mint bullion sales were unchanged this week, according to available figures from the bureau's website. Last week, the Mint reported:
Sales of American Gold Eagles rising 29,500 ounces.

Sales of American Silver Eagles jumping 1 million ounces.

Sales of American Buffalo gold climbing 4,000 ounces.
Below is a sales breakdown of U.S. Mint bullion products with columns listing the number of coins sold during varying periods. Products with an asterisk (*) are no longer available.
US Mint Bullion Sales (# of coins)
Friday / This Week
Last Week
June
July
August
2020 Sales
$50 American Eagle 1 Oz Gold Coin
0
16,500
42,500
107,500
86,000
521,000
$25 American Eagle 1/2 Oz Gold Coin
0
6,000
2,000
4,000
6,000
51,000
$10 American Eagle 1/4 Oz Gold Coin
0
12,000
2,000
10,000
12,000
76,000
$5 American Eagle 1/10 Oz Gold Coin
0
30,000
0
35,000
30,000
240,000
$50 American Buffalo 1 Oz Gold Coin
0
4,000
7,500
30,000
22,500
178,500
$1 American Eagle 1 Oz Silver Coin
0
1,000,000
1,398,000
1,084,500
2,593,000
16,294,000
America Samoa 5 oz Silver Coin*
0
0
0
0
0
45,000
Weir Farm 5 oz Silver Coin*
0
0
0
0
0
45,000
Salt River Bay 5 oz Silver Coin*
0
0
0
0
0
45,000
Marsh Billings 5 oz Silver Coin*
0
0
0
45,000
0
45,000
$1 American Eagle 1 Oz Platinum Coin*
0
0
0
0
0
56,500