Designs for the Donald J. Trump Presidential Medal have been recommended by the Commission of Fine Arts (CFA) and by the Citizens Coinage Advisory Committee (CCAC).
After the final designs are officially selected, the United States Mint will eventually transfer them onto bronze and silver medals and offer them for sale to the public. The U.S. Mint produces Congressional and numerous list medals, and has been tasked with striking Presidential medals in bronze since the early days of the nation. In 2018, the Mint also started making Presidential silver medals which shared designs from the earlier issued Presidential bronze medals.
Thirty-Four Trump Presidential Medal Candidate Designs
The U.S. Mint submitted 34 proposed Trump Presidential medal designs with splits of 10 candidates for the medal's obverse (heads side) and 24 candidates for the medal's reverse (tails side). The CFA reviewed all 34 designs on June 18 while the CFA reviewed them on June 23.
Consistent with the preferences of the White House liaison, both the CFA and CCAC recommended obverse #1 and reverse #10.
Each obverse candidate depicts a likeness of the president. Recommend obverse design #1 also shows an inscription of "DONALD J. TRUMP."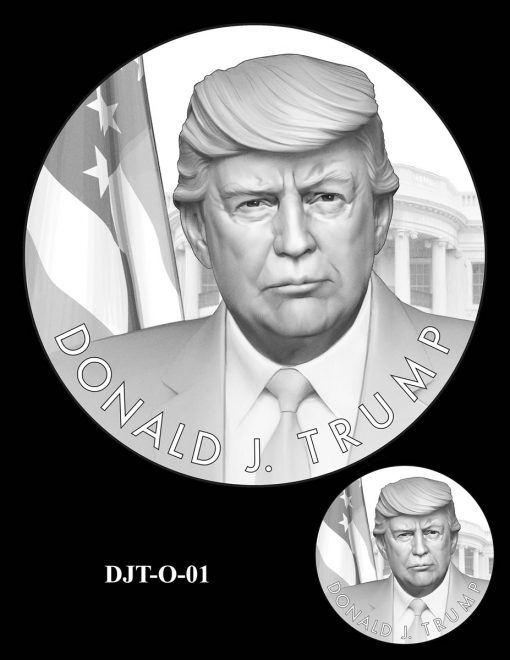 Recommended reverse design #10 features images of the Presidential seal and of the White House, inscriptions "THE FORGOTTEN MEN AND WOMEN OF OUR COUNTRY WILL NOT BE FORGOTTEN AGAIN" for a portion of Trump's inaugural address and "JANUARY 2020, 2017" for Trump's inauguration date, and 45 encirculating stars denoting Trump as the 45th President of the United States.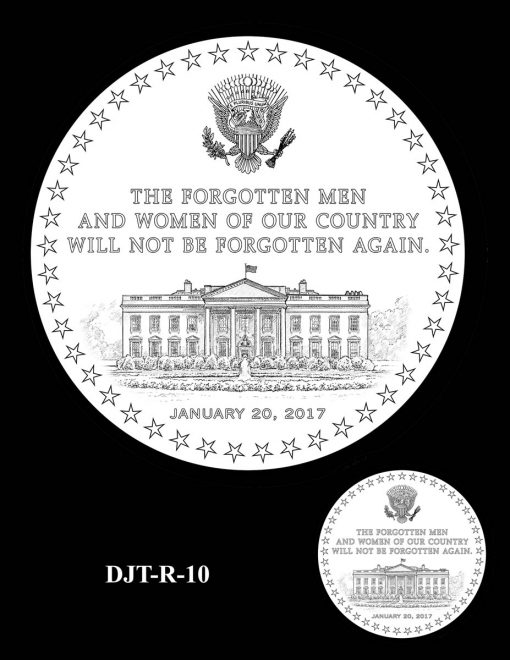 The Treasury Secretary is responsible for selecting final U.S. coin and medal designs after consulting with stake holders and the CFA and CCAC. Final designs for the Donald Trump Presidential Medal are very likely to be obverse #1 and reverse #10 given their all-inclusive support.
The following U.S. Mint line art images show all the proposed obverse and reverse designs.
Obverse Candidate Designs
Reverse Candidate Designs