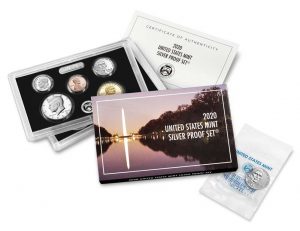 The newest U.S. Mint sales stats aren't much different from a week ago, at least in terms of what products are selling the most.
In the latest list of the Mint's top-ten weekly sellers, nine of the products also appear on last week's list. The three top sellers on both lists rank the same.
Gains weren't altogether different either, and several of the products are older in the sense that they launched last year.
Weekly U.S. Mint Top Sellers
Here's a listing of the Mint's most popular products for the week ended May 10:
2020 Proof Set (+3,750 to 249,806)
2019 Silver Proof Set (+904 to 397,377)
2020 America the Beautiful Quarters Silver Proof Set (+897 to 50,988)
2019-W Uncirculated Silver Eagle (+782 to 134,151)
2020 America the Beautiful Quarters Proof Set (+636 to 48,608)
2019 Mint Set (+613 to 327,299)
2019 Proof Set (+609 to 575,711)
2020 Proof Gold Eagle Four-Coin Set (+576 to 5,406)
2020 America the Beautiful Quarters Uncirculated Set (+567 to 20,974)
2020 Birth Set (+511 to 10,708)
In its latest report, the U.S. Mint published sales data for 131 numismatic products. One increased by more than 1,000 units, matching the prior report. Seventy-three outperformed their prior weekly gains against 37 previously.
2020 Silver Proof Set on Back Order
In addition, two products saw their sales reduced compared to 12 previously. The 2019-S Proof American Silver Eagle dipped 4 to 146,730 and the 2020 Silver Proof Set declined 54 to 190,886.
The 2020 Silver Proof Set, which includes a bonus reverse proof Jefferson nickel, saw its ordering status change this week from "Currently Unavailable" to "Back Order." The new status lets collectors place orders that will be fulfilled when more sets are made and become available for shipping. As of this writing, the set has an expected in-stock date of May 20.
US Mint Sales: Numismatic Products
Below are tables showing the latest available sales for U.S. Mint numismatic products. The sales period covers from May 4 to 10. Products with an asterisk (*) are no longer available or had no reported sales.
American Liberty Products

Old
Sales
Latest
Sales
Gain/
Loss
%
Increase
2019-W $100 American Liberty Gold Coin
9,241
9,277
36
0.39%
2019-P American Liberty Silver Medal
34,350
34,546
196
0.57%
2018-W $10 American Liberty Gold Coin
32,705
32,805
100
0.31%
2017 American Liberty Silver Four-Medal Set*
32,647
32,647
–
–
2017-S Enhanced Uncirculated Coin Set*
210,419
210,419
–
–
2017-W $100 American Liberty Gold Coin
31,747
31,771
24
0.08%
2017-P Proof American Liberty Silver Medal*
55,187
55,187
–
–

2019 American Legion Commemorative Coins

Old
Sales
Latest
Sales
Gain/
Loss
%
Increase
2019 American Legion Gold Coin and Emblem Print*
277
277
–
–
2019 American Legion Silver Dollar and Emblem Print*
1,788
1,788
–
–
2019 American Legion 50c and Emblem Print*
1,026
1,026
–
–
2019 American Legion Silver Dollar and Medal Set*
9,888
9,888
–
–
2019-W Proof $5 American Legion Gold Coin*
3,190
3,190
–
–
2019-W Uncirculated $5 American Legion Gold Coin*
2,927
2,927
–
–
2019-P Proof American Legion Silver Dollar*
44,018
44,018
–
–
2019-P Uncirculated American Legion Silver Dollar*
13,789
13,789
–
–
2019-S Proof American Legion Half Dollar*
18,811
18,811
–
–
2019-D Uncirculated American Legion Half Dollar*
11,430
11,430
–
–
2019 American Legion Three-Coin Proof Set*
7,451
7,451
–
–

2019 Apollo 11 Commemorative Coins

Old
Sales
Latest
Sales
Gain/
Loss
%
Increase
2019-W Proof $5 Gold Coin & Intaglio Print*
1,162
1,162
–
–
2019-P Proof Apollo 11 Silver Dollar & Intaglio Print*
4,980
4,980
–
–
2019-W Proof $5 Apollo 11 Gold Coin*
32,862
32,862
–
–
2019-W Uncirculated $5 Apollo 11 Gold Coin*
12,035
12,035
–
–
2019-P Proof Apollo 11 Silver Dollar*
218,995
218,995
–
–
2019-P Uncirculated Apollo 11 Silver Dollar*
59,700
59,700
–
–
2019-S Proof Apollo 11 Half Dollar*
66,822
66,822
–
–
2019-D Uncirculated Apollo 11 Half Dollar*
41,742
41,742
–
–
2019-S Proof Apollo 11 Half Dollar Set*
99,998
99,998
–
–
2019-P Proof Apollo 11 Five Ounce Silver Coin*
68,301
68,301
–
–

2018 Breast Cancer Awareness Commemorative Coins

Old
Sales
Latest
Sales
Gain/
Loss
%
Increase
2018 Breast Cancer Awareness Coin and Stamp Set*
4,455
4,455
–
–
2018-W Proof $5 Breast Cancer Awareness Gold Coin*
10,386
10,386
–
–
2018-W Uncirculated $5 Breast Cancer Awareness Gold Coin*
4,477
4,477
–
–
2018-P Proof Breast Cancer Awareness Silver Dollar*
34,542
34,542
–
–
2018-P Uncirculated Breast Cancer Awareness Silver Dollar*
12,526
12,526
–
–
2018-S Proof Breast Cancer Awareness Clad Half Dollar*
17,937
17,937
–
–
2018-D Uncirculated Breast Cancer Awareness Clad Half Dollar*
11,301
11,301
–
–

2018 WWI Centennial Silver Dollar and Medal Commemoratives

Old
Sales
Latest
Sales
Gain/
Loss
%
Increase
2018 Proof WWI Silver Dollar*
64,982
64,982
–
–
2018 Uncirculated WWI Silver Dollar*
22,336
22,336
–
–
2018 WWI Silver Dollar and Army Silver Medal Set*
15,621
15,621
–
–
2018 WWI Silver Dollar and Navy Silver Medal Set*
12,253
12,253
–
–
2018 WWI Silver Dollar and Marines Silver Medal Set*
12,648
12,648
–
–
2018 WWI Silver Dollar Coast Guard Silver Medal Set*
9,813
9,813
–
–
2018 WWI Silver Dollar Air Service Silver Medal Set*
12,520
12,520
–
–

Clad Proof Set

Old
Sales
Latest
Sales
Gain/
Loss
%
Increase
2020 Proof Set
246,056
249,806
3,750
1.52%
2019 Proof Set
575,102
575,711
609
0.11%
2018 Proof Set*
517,081
517,081
–
–
2017 Proof Set*
568,678
568,678
–
–
2019 American Innovation Dollars Proof Set
95,367
95,717
350
0.37%

2020 America the Beautiful Quarters Proof Set

47,972
48,608
636
1.33%
2019 America the Beautiful Quarters Proof Set
72,299
72,330
31
0.04%
2018 America the Beautiful Quarters Proof Set*
86,697
86,697
–
–
2020 Happy Birthday Gift Set
10,133
10,351
218
2.15%
2019 Happy Birthday Gift Set
18,084
18,103
19
0.11%
2018 Happy Birthday Gift Set*
17,719
17,719
–
–
2020 Birth Gift Set
10,197
10,708
511
5.01%
2019 Birth Gift Set
28,507
28,546
39
0.14%
2018 Birth Gift Set
32,250
32,262
12
0.04%

Silver Proof Set

Old
Sales
Latest
Sales
Gain/
Loss
%
Increase
2020 Silver Proof Set
190,940
190,886
-54
-0.03%
2019 Silver Proof Set
396,473
397,377
904
0.23%
2018 Silver Proof Set*
332,274
332,274
–
–
2018 Silver Reverse Proof Set*
199,116
199,116
–
–
2020 America the Beautiful Quarters Silver Proof Set
50,091
50,988
897
1.79%
2019 America the Beautiful Quarters Silver Proof Set
73,088
73,175
87
0.12%
2018 America the Beautiful Quarters Silver Proof Set*
79,301
79,301
–
–
2020 Congratulations Gift Set
24,385
24,398
13
0.05%
2019 Congratulations Gift Set
27,460
27,522
62
0.23%
2019 Limited Edition Silver Proof Set*
47,404
47,404
–
–
2018 Limited Edition Silver Proof Set*
49,479
49,479
–
–

US Mint Uncirculated Sets

Old
Sales
Latest
Sales
Gain/
Loss
%
Increase
2019 Native American $1 Coin and Currency Set
45,788
45,884
96
0.21%
2019 Uncirculated Mint Set
326,686
327,299
613
0.19%
2018 Uncirculated Mint Set*
257,536
257,536
–
–
2017 Uncirculated Mint Set*
286,813
286,813
–
–

Kids Coin Sets

Old
Sales
Latest
Sales
Gain/
Loss
%
Increase
2019 Youth Coin and Currency Set
9,137
9,190
53
0.58%
2019 Explore and Discover Coin Set
33,095
33,125
30
0.09%
2019 Rocketship*
49,921
49,921
–
–
2014 Coin Discovery Set*
13,151
13,151
–
–

Ornaments

Old
Sales
Latest
Sales
Gain/
Loss
%
Increase
2019 Mighty Minters Ornament
4,362
4,362
–
–
2019 U.S. Mint Ornament
7,682
7,684
2
0.03%

Proof Silver Eagles

Old
Sales
Latest
Sales
Gain/
Loss
%
Increase
2020-W Proof Silver Eagle
272,916
272,916
–
–
2020-W Proof Silver Eagle (Bulk – 40 Coins)
594
594
–
–
2019-S Enhanced Reverse Proof Proof Silver Eagle*
29,707
29,707
–
–
2019-S Proof Silver Eagle
146,734
146,730
-4
0.00%
2019-S Proof Silver Eagle (Bulk – 40 Coins)*
137
137
–
–
2019 Pride of Nations Two-Coin Set
99,675
99,675
–
–
2019-W Proof Silver Eagle*
345,380
345,380
–
–
2019-W Proof Silver Eagle (Bulk – 40 Coins)*
745
745
–
–
2018-S Proof Silver Eagle*
158,785
158,785
–
–
2018-W Proof Silver Eagle*
354,025
354,025
–
–
2018-W Proof Silver Eagle (Bulk Pack – 210 Coins)*
182
182
–
–

Uncirculated Silver Eagles

Old
Sales
Latest
Sales
Gain/
Loss
%
Increase
2019
133,369
134,151
782
0.59%
2019 Bulk 40*
66
66
–
–
2018*
138,947
138,947
–
–
2017*
176,739
176,739
–
–

2020 Proof American Eagle Gold Coins

Old
Sales
Latest
Sales
Gain/
Loss
%
Increase
1 oz
2,556
2,677
121
4.73%
1/2 oz
959
1,001
42
4.38%
1/4 oz
1,481
1,579
98
6.62%
1/10 oz
5,006
5,336
330
6.59%
4-Coin Set
4,830
5,406
576
11.93%

2019 Proof American Eagle Gold Coins

Old
Sales
Latest
Sales
Gain/
Loss
%
Increase
1 oz
5,622
5,629
7
0.12%
1/2 oz*
1,876
1,876
–
–
1/4 oz*
3,035
3,035
–
–
1/10 oz*
10,231
10,231
–
–
4-Coin Set
7,474
7,476
2
0.03%

Uncirculated American Eagle Gold Coins

Old
Sales
Latest
Sales
Gain/
Loss
%
Increase
2019*
5,851
5,851
–
–
2018*
8,518
8,518
–
–
2017*
5,800
5,800
–
–

Proof American Buffalo Gold Coins

Old
Sales
Latest
Sales
Gain/
Loss
%
Increase
2020 Proof Gold Buffalo
6,771
7,094
323
4.77%
2019 Proof Gold Buffalo
14,834
14,834
–
–
2018 Proof Gold Buffalo*
15,756
15,756
–
–
2017 Proof Gold Buffalo*
15,810
15,810
–
–

Proof American Platinum Eagle

Old
Sales
Latest
Sales
Gain/
Loss
%
Increase
2020
6,326
6,390
64
1.01%
2019
10,289
10,301
12
0.12%
2018
14,035
14,041
6
0.04%
2017*
8,890
8,890
–
–

American Palladium Eagle

Old
Sales
Latest
Sales
Gain/
Loss
%
Increase
2019-W Reverse Proof
17,295
17,318
23
0.13%
2018-W Proof*
14,986
14,986
–
–

America the Beautiful 5 Oz Silver Coins

Old
Sales
Latest
Sales
Gain/
Loss
%
Increase

2020-P National Park of American Samoa Silver Uncirculated Coin

14,305
14,485
180
1.26%
2019-P River of No Return Silver Uncirculated Coin
13,657
13,683
26
0.19%
2019-P San Antonio Missions Silver Uncirculated Coin
14,684
14,699
15
0.10%
2019-P War In The Pacific Silver Uncirculated Coin
15,474
15,503
29
0.19%
2019-P American Memorial Park Silver Uncirculated Coin
14,429
14,447
18
0.12%
2019-P Lowell Five Ounce Silver Uncirculated Coin
15,172
15,189
17
0.11%
2018-P Block Island Silver Coins*
15,913
15,913
–
–
2018-P Cumberland Island Silver Coins*
16,377
16,377
–
–
2018-P Voyageurs Silver Coins*
16,839
16,839
–
–
2018-P Apostle Islands Silver Coins*
16,802
16,802
–
–
2018-P Pictured Rocks Silver Coins*
17,773
17,773
–
–
2017-P George Rogers Clark Silver Coins*
14,731
14,731
–
–
2017-P Ellis Island Silver Coins*
17,670
17,670
–
–
2017-P Ozark Riverways Silver Coins
17,694
17,694
–
–
2017-P Frederick Douglass Silver Coins*
17,678
17,678
–
–
2017-P Effigy Mounds Silver Coins*
17,251
17,251
–
–

Presidential Silver Medals

Old
Sales
Latest
Sales
Gain/
Loss
%
Increase
2020 Andrew Jackson Presidential Silver Medal
10,183
10,303
120
1.18%
2019 John Quincy Adams Presidential Silver Medal
10,808
10,835
27
0.25%
2019 James Monroe Presidential Silver Medal
11,366
11,385
19
0.17%
2019 James Madison Presidential Silver Medal
12,198
12,221
23
0.19%
2019 Thomas Jefferson Presidential Silver Medal
16,049
16,076
27
0.17%
2018 George Washington Presidential Silver Medal
24,226
24,265
39
0.16%
2018 John Adams Presidential Silver Medal
18,651
18,673
22
0.12%

2019 American Innovation Dollars – Georgia

Old
Sales
Latest
Sales
Gain/
Loss
%
Increase
Reverse Proof (S)
30,281
30,460
179
0.59%
25-coin roll set (P)
5,432
5,451
19
0.35%
25-coin roll set (D)
5,218
5,238
20
0.38%
100-coin bag (P)
2,000
2,007
7
0.35%
100-coin bag (D)
1,890
1,896
6
0.32%

2019 American Innovation Dollars – New Jersey

Old
Sales
Latest
Sales
Gain/
Loss
%
Increase
Reverse Proof (S)
34,534
35,033
499
1.44%
25-coin roll set (P)
5,909
5,931
22
0.37%
25-coin roll set (D)
5,563
5,575
12
0.22%
100-coin bag (P)
2,284
2,293
9
0.39%
100-coin bag (D)
2,098
2,102
4
0.19%

2019 American Innovation Dollars – Pennsylvania

Old
Sales
Latest
Sales
Gain/
Loss
%
Increase
Reverse Proof (S)
40,534
40,666
132
0.33%
25-coin roll set (P)
6,486
6,514
28
0.43%
25-coin roll set (D)
5,884
5,900
16
0.27%
100-coin bag (P)
1,939
1,951
12
0.62%
100-coin bag (D)
1,938
1,949
11
0.57%

2019 American Innovation Dollars – Delaware

Old
Sales
Latest
Sales
Gain/
Loss
%
Increase
Reverse Proof (S)
57,120
57,252
132
0.23%
25-coin roll set (P)
6,559
6,579
20
0.30%
25-coin roll set (D)
6,225
6,238
13
0.21%
100-coin bag (P)
2,081
2,083
2
0.10%
100-coin bag (D)
2,272
2,276
4
0.18%

2018 American Innovation Dollars

Old
Sales
Latest
Sales
Gain/
Loss
%
Increase
Reverse Proof (S)*
74,720
74,720
–
–
Proof Coin (S)
211,055
211,361
306
0.14%
25-coin roll set (P)
17,036
17,070
34
0.20%
25-coin roll set (D)
16,054
16,086
32
0.20%
100-coin bag (P)*
2,935
2,935
–
–
100-coin bag (D)*
2,954
2,954
–
–

Native American Dollar Rolls

Old
Sales
Latest
Sales
Gain/
Loss
%
Increase
2020-dated 25-coin roll set (P)
10,554
10,638
84
0.80%
2020-dated 25-coin roll set (D)
10,367
10,455
88
0.85%
2020-dated 100-coin bag (P)
1,501
1,518
17
1.13%
2020-dated 100-coin bag (D)
1,616
1,632
16
0.99%
2020-dated 250-coin box (P)
860
875
15
1.74%
2020-dated 250-coin box (D)
937
951
14
1.49%
2019-dated 25-coin roll set (P)
15,651
15,683
32
0.20%
2019-dated 25-coin roll set (D)
15,050
15,082
32
0.21%
2019-dated 100-coin bag (P)
1,784
1,796
12
0.67%
2019-dated 100-coin bag (D)
1,570
1,580
10
0.64%
2019-dated 250-coin box (P)*
1,734
1,734
–
–
2019-dated 250-coin box (D)
1,927
1,927
–
–
2018-dated 25-coin roll set (P)*
17,392
17,392
–
–
2018-dated 25-coin roll set (D)*
16,555
16,555
–
–
2018-dated 100-coin bag (P)*
1,931
1,931
–
–
2018-dated 100-coin bag (D)*
1,930
1,930
–
–
2018-dated 250-coin box (P)*
1,865
1,865
–
–
2018-dated 250-coin box (D)*
1,874
1,874
–
–

Kennedy Half Dollar Rolls

Old
Sales
Latest
Sales
Gain/
Loss
%
Increase
2019-dated 200-coin bag (P&D)
8,610
8,636
26
0.30%
2019-dated 2-roll set (P&D)
21,324
21,406
82
0.38%
2018-dated 200-coin bag (P&D)*
9,498
9,498
–
–
2018-dated 2-roll set (P&D)*
22,622
22,622
–
–

America the Beautiful Quarters Uncirculated Coin Set

Old
Sales
Latest
Sales
Gain/
Loss
%
Increase
2020 Issue
20,407
20,974
567
2.78%
2019 Issue
27,770
27,831
61
0.22%
2018 Issue*
32,648
32,648
–
–
2017 Issue*
29,972
29,972
–
–

America the Beautiful Quarters Circulating Coin Set

Old
Sales
Latest
Sales
Gain/
Loss
%
Increase
2019 Issue
20,398
20,461
63
0.31%
2018 Issue
22,415
22,415
–
–
2017 Issue*
24,765
24,765
–
–
2016 Issue*
23,958
23,958
–
–

America the Beautiful Quarters Three-Coin Sets

Old
Sales
Latest
Sales
Gain/
Loss
%
Increase
National Park of American Samoa
12,523
12,661
138
1.10%
River of No Return
12,681
12,692
11
0.09%
San Antonio Missions
14,609
14,626
17
0.12%
War in Pacific
14,941
14,954
13
0.09%
American Memorial Park
14,308
14,320
12
0.08%
Lowell
14,453
14,467
14
0.10%
Block Island*
13,450
13,450
–
–
Cumberland Island*
13,560
13,560
–
–
Voyageurs*
14,424
14,424
–
–
Apostle Islands*
14,486
14,486
–
–
Pictured Rocks*
15,397
15,397
–
–
George Rogers Clark*
14,133
14,133
–
–
Ellis Island*
16,947
16,947
–
–
Ozark Riverways*
14,912
14,912
–
–
Frederick Douglass*
15,566
15,566
–
–
Effigy Mounds*
14,516
14,516
–
–
Fort Moultrie*
13,306
13,306
–
–
Theodore Roosevelt*
16,072
16,072
–
–
Harpers Ferry*
14,345
14,345
–
–
Cumberland Gap*
14,973
14,973
–
–
Shawnee*
15,474
15,474
–
–
Saratoga*
14,950
14,950
–
–
Bombay Hook*
13,400
13,400
–
–
Blue Ridge Parkway*
17,165
17,165
–
–
Kisatchie Set*
15,196
15,196
–
–
Homestead Set*
16,114
16,114
–
–
Everglades Set*
14,373
14,373
–
–
Great Sand Dunes Set*
14,119
14,119
–
–
Arches Three-Coin Set*
15,859
15,859
–
–
Shenandoah Three-Coin Set*
17,351
17,351
–
–
Great Smoky Mountains Set*
18,588
18,588
–
–
Mount Rushmore Quarters Set*
17,924
17,924
–
–
Fort McHenry Quarters Set*
16,345
16,345
–
–
Great Basin Quarters Set*
15,526
15,526
–
–
Perry's Victory Quarters Set*
17,643
17,643
–
–
White Mountain Quarters Set*
18,056
18,056
–
–
Denali Quarters Set*
18,193
18,193
–
–
Hawaii Volcanoes Quarters Set*
19,947
19,947
–
–
Acadia Quarters Set*
19,940
19,940
–
–
Chaco Culture Quarters Set*
20,028
20,028
–
–
El Yunque Quarters Set*
19,891
19,891
–
–
Chickasaw Quarters Set*
16,184
16,184
–
–
Vicksburg Quarters Set*
18,095
18,095
–
–
Olympic Quarters Set*
17,718
17,718
–
–
Glacier Quarters Set*
19,046
19,046
–
–
Gettysburg Quarters Set*
22,869
22,869
–
–
Mount Hood Quarters Set*
18,384
18,384
–
–
Grand Canyon Quarters Set*
22,133
22,133
–
–
Yosemite Quarters Set*
22,154
22,154
–
–
Yellowstone Quarters Set*
25,048
25,048
–
–
Hot Springs Quarters Set*
23,203
23,203
–
–

2020 National Park of American Samoa Quarters

Old
Sales
Latest
Sales
Gain/
Loss
%
Increase
100-Coin Bag (S)
4,193
4,235
42
1.00%
40-Coin Roll (S)
3,935
3,975
40
1.02%
Three-Roll Set
8,225
8,433
208
2.53%
100-Coin Bag (P)
2,287
2,378
91
3.98%
100-Coin Bag (D)
2,097
2,193
96
4.58%
Two-Roll Set
5,503
5,582
79
1.44%

2019 River of No Return Quarters

Old
Sales
Latest
Sales
Gain/
Loss
%
Increase
100-Coin Bag (S)
3,737
3,746
9
0.24%
40-Coin Roll (S)
3,524
3,533
9
0.26%
Three-Roll Set
8,080
8,090
10
0.12%
100-Coin Bag (P)
2,095
2,106
11
0.53%
100-Coin Bag (D)
2,035
2,039
4
0.20%
Two-Roll Set
5,651
5,655
4
0.07%

2019 San Antonio Missions Quarters

Old
Sales
Latest
Sales
Gain/
Loss
%
Increase
100-Coin Bag (S)
4,008
4,019
11
0.27%
40-Coin Roll (S)
3,682
3,688
6
0.16%
Three-Roll Set
8,661
8,671
10
0.12%
100-Coin Bag (P)
2,296
2,297
1
0.04%
100-Coin Bag (D)
2,212
2,215
3
0.14%
Two-Roll Set
5,925
5,929
4
0.07%

2019 War In The Pacific Quarters

Old
Sales
Latest
Sales
Gain/
Loss
%
Increase
100-Coin Bag (S)
4,093
4,104
11
0.27%
40-Coin Roll (S)
3,732
3,738
6
0.16%
Three-Roll Set
8,624
8,631
7
0.08%
100-Coin Bag (P)
2,331
2,331
–
–
100-Coin Bag (D)
2,237
2,238
1
0.04%
Two-Roll Set
5,995
5,997
2
0.03%

2019 American Memorial Park Quarters

Old
Sales
Latest
Sales
Gain/
Loss
%
Increase
100-Coin Bag (S)
4,083
4,090
7
0.17%
40-Coin Roll (S)
3,853
3,858
5
0.13%
Three-Roll Set
8,464
8,468
4
0.05%
100-Coin Bag (P)*
2,455
2,455
–
–
100-Coin Bag (D)*
2,421
2,421
–
–
Two-Roll Set
6,054
6,056
2
0.03%

2019 Lowell Quarters

Old
Sales
Latest
Sales
Gain/
Loss
%
Increase
100-Coin Bag (S)*
4,006
4,006
–
–
40-Coin Roll (S)*
3,801
3,801
–
–
Three-Roll Set*
8,596
8,596
–
–
100-Coin Bag (P)*
2,435
2,435
–
–
100-Coin Bag (D)*
2,325
2,325
–
–
Two-Roll Set*
6,168
6,168
–
–